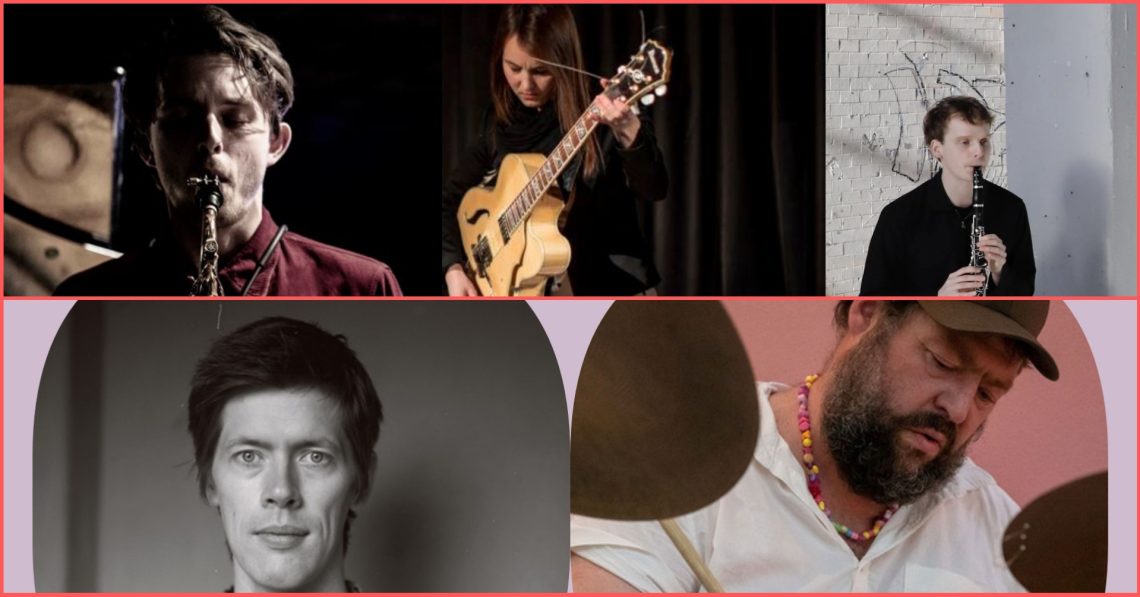 BrÖtz no. 879 1/11 19:30
Kresten Osgood Karl Bjorå + Kanemås
                                    ::::::::::::::::::::::: Musikstuderanden Gratis! ::::::::::::::::::::::::::::::::::
Kresten Osgood
Karl Bjorå Duo
trummor och gitarr
:::::::::::::::::::::::::::::::::::::::::::::::::::::::::::::
Kresten Osgood and Karl Bjorå are teaming up for a series of duo concerts!!!
In november 2023 its possible to hear a meeting of two of the brightest improvisational minds in Scandinavia right now. available dates are: nov 1st and 2nd and nov 4th-7th
Karl Haugland Bjorå is a Norwegian guitarist and composer living in Oslo. Bjorå has marked himself as a strong voice in the Norwegian and European scene for jazz and improvised music through his playing and composing. He plays a central part in bands such as Emmeluth's Amoeba (Signe Emmeluth, Ole Mofjell and Christian Balvig), Megalodon Collective (Norwegian Grammy nominated 2016 & and winner of the Young Jazz Musicians 2016), Yes Deer (Anders Vestergaard and Signe Dahlgreen) and OWL (duo with Signe Emmeluth). He has also collaborated with artists such as Balazs Pandi, Linda Sharrock and Klaus Holm
Kresten Osgood is one of these people who at the same time defy and totally own categories. An extraordinary drummer and improviser who with the fullest respect to tradition, challenges it at any given moment of his creative endeavors. He has about a 100 albums to his credit, toured practically everywhere, has been performing and/or recording with legends like Roscoe Mitchell, Paul Bley, Lee Scratch Perry, William Parker, Masabumi Kikuchi, Derek Bailey, Wadada Leo Smith, Jason Moran, Michael Blake, Oliver Lake, Kurt Rosenwinkel, John Tchicai, Tim Berne, Justin Vernon, Peter Brötzman, Joshua Redman, Eugene Chadbourne, Billy Preston, Alan Silva, Brad Mehldau, Mats Gustafsson, Bennie Maupin, The National, Dr. Lonnie Smith, Sam Rivers, Henry Grimes, Dr. Yusef Lateef, Warren Smith, and many many others. But even that doesn't really cover the full spectrum of what he has been up to in his career. A successful rapper, composer, pianist, vocalist, saxophonist and trumpeter, a true multi-instrumentalist. A very sharp kaleidoscope man, regardless of the context always realizing his fullest potential.
Kanemås
Adrian Åsling Sellius – saxofon/klarinett
Emil Nilsson – klarinett
Merje Kägu – gitarr
:::::::::::::::::::::::::::::::::::::::::::::::::::::::::
Kanemås
Måneska, kanåsem, åmkneas, enaskåm, skamenå, åskmane
Från ingenting till något,
en ny skapelse
fångar musikens nu, nu
:::::::::::::::::::::::::::::::::::::::::::::::::::::::::::::::::::::::::::::::::::::::::::::::::::
INFO:
MESSENGER UTSKICK….och maillista:
Vi har en Messengergrupp som heter
"BrÖtz This Week" för att kunna skicka inbjudningar/påminnelser på ett smidigt sätt.
Hör av dig digitalt till info (at) brotznow.se så addar vi…
Vill du också/hellre vara med på en mailutskickslista så skriv till henrik (at) Wartel.se
Det finns en sovande FFFFK- grupp på Facebook som tyvärr blir alltmer aktuell då budgetar skärs ner kors och tvärs av våra fina ledare:
FFFFKFB – Forum För Främjandet av den Fria Kulturen på FaceBook. Vi föreslår att fria kulturarbetare kommer fram till ett manifest ett, manuskript, en skrivelse, en text som innehåller ett förslag hur pengar för den fria kulturen ska hanteras. Tanken är att via denna grupp gör en gemensam formulering.
Gå gärna med i denna grupp!
:::::::::::::::::::::::::::
Brötz Inträde: 100 kr swish eller cash
Öppnar: 19.30
Gästande musiker säljer ofta LP och CD.
Permanenta musiker som driver BrÖtz har även de CD´s till salu. Mycket bra musik att roa sig med under tiden för den långa väntan till nästkommande veckas BrÖtz.
Köpglädjen är den sannaste glädjen!
Stöd gärna musikerna!
http://www.facebook.com/musicloversgProgrammet:
http://brotznow.se/#home
Tillgänglighet:
http://www.t-d.se/…/Konstepidemin/Konstepidemin-Attan/
Väl mött!
www.brotznow.se
https://www.facebook.com/BrÖtz-305847972764528