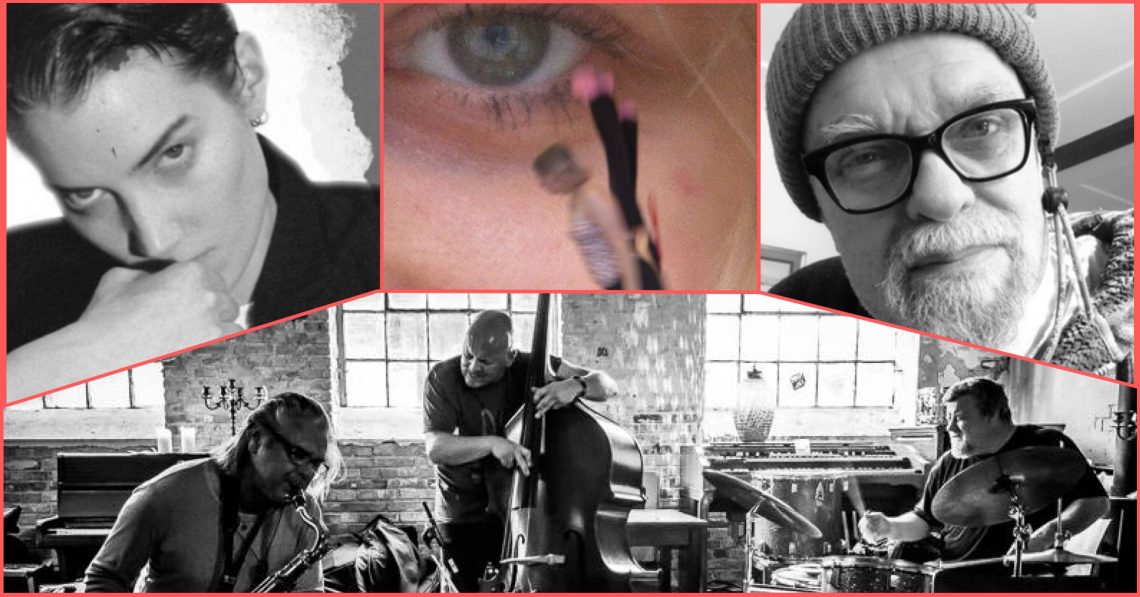 BrÖtz no. 876 4/10 19:30
St-Ing-Ray + Perkis/Risberg/Mol
                                               ::::::::::::::::::::::: Musikstuderanden Gratis! ::::::::::::::::::::::::::::::::::
St-Ing-Ray
Sture Ericson – saxofoner
Ingebrigt Håker Flaten – bass
Raymond Strid – trommer
:::::::::::::::::::::::::::::::::::::::::::::::::::::::::::
Ingebrigt är ett känt basfenomen som har varit en närmast vulkanisk energi i band som The Thing, Atomic och The Electrics. Därutöver har han arbetat med otaliga namn som Joe McPhee, Evan Parker, David Murray etc.
Ett unikum i sin förmåga att skapa rytmisk momentum utöver det mesta. Timing, fantasi, och samspel i överflöd.
En alltför sällsynt gäst på den göteborgska scenen. Men det ändras det på nu…
Raymond är mer känd for den lokala publiken. Han har haft stor influens på speciellt den nordiska scenen. Han har hörts med band som Gush, Barry Guy New Orchestra, Crispell-Jormin-Strid, och i et otal konstellationer med t.ex. Per Henrik Wallin, Joelle Leandre, Barre Philips och John Russell
Sture är nog också en bekanting för Brötzpubliken. Har bl.a.hörts med The Electrics, Bagman, Nina de Heney & Kresten Osgood. Har genom åren samarbetat brett över landgränserna i ett otal Ad Hoc konstellationer.
St-Ing-Ray har spelat av och till genom åren, bl.a. i Chicago och på jazzfestivalen i Köpenhamn. Nu ser vi fram emot vår första egentliga turné!!!
::::::::::::::::::::::::::::::::::::::::::::::::::::::::::::
Perkis/Risberg/Mol
Tim Perkis-electronics
Loke Risberg-guitar
Valerie Mol-electronics
::::::::::::::::::::::::::::::::::::::::::::::::::::::::::::
TIM PERKIS is a well-known figure in the worlds of improvised and electronic music. Over the course of decades he has played his unique computer-based electronic instruments with hundreds of musicians, including many of the leading players in free improvisation from Europe and the US. He is also a founding member of several electronic music ensembles, including FuzzyBunny, Kinda Green and the pioneering computer network band The Hub. Recordings of his music are available on the Artifact, Tzadik, New World and EMANEM labels, among others. His documentary film NOISY PEOPLE(2007) and the NOISY PEOPLE podcast (2015) are available at perkis.com. In 2018, Tim and his group the HUB were the recipients of the GigaHertz Prize for Lifetime Achievement in Electronic Music from ZKM in Karlsruhe Germany.
Loke Risberg är en prisbelönt, internationellt erkänd gitarrist verksam inom jazz och improvisations genrerna, men även aktiv som kompositör inom den moderna konstmusiken. Han har släppt flera skivor i eget namn (tidigare Susanna Risberg), varav den senaste på bolaget Cam Jazz ("Boiler Room" 2021) som även kommer att släppa hans första sologitarrskiva till hösten.
"Truly worthy of inclusion in any discussion about important contemporary jazz guitarists" – All About Jazz
Loke Risberg is an award-winning, internationally recognized guitarist active in the jazz and improvisation genres, but also active as a composer in modern art music. He has released several records under his own name (formerly Susanna Risberg), the latest of which on the Cam Jazz company ("Boiler Room" 2021), which will also release his first solo guitar record in the fall.
Valerie Mol (euroDYKE) är en fransk ljudkompositör, molnforskare/rörmokare som intresserar sig för korta, högfrekventa ljud. Hon studerar på Kungliga Musikhögskolan i Stockholm och har jobbat på Molnverket som gasarkivarie. euroDYKE har komponerat nu-concrète-stycken för festivalen Ung Nordisk Musik i Reykjavík 2022, är aktiv inom Fylkingen och har släppt musik på Charleville-Mézières-baserade skivbolaget "Laine d'Ver!", släpp som har hyllats av bl.a. Colin Farrell på TikTok.
Valerie Mol (euroDYKE) is a French sound composer, cloud researcher/plumber interested in short, high frequency sounds. She studies at the Royal Academy of Music in Stockholm and has worked at the Swedish Cloud Agency as a gas archivist. euroDYKE has composed nu-concrète pieces for the Ung Nordisk Musik festival in Reykjavík 2022, is active in Fylkingen and has released music on the Charleville-Mézières-based record label "Laine d'Ver!", a release that has been praised by e.g. Colin Farrell on TikTok.
:::::::::::::::::::::::::::::::::::::::::::::::::::::::::::::
INFO:
MESSENGER UTSKICK….och maillista:
Vi har en Messengergrupp som heter
"BrÖtz This Week" för att kunna skicka inbjudningar/påminnelser på ett smidigt sätt.
Hör av dig digitalt till info (at) brotznow.se så addar vi…
Vill du också/hellre vara med på en mailutskickslista så skriv till henrik (at) Wartel.se
Det finns en sovande FFFFK- grupp på Facebook som tyvärr blir alltmer aktuell då budgetar skärs ner kors och tvärs av våra fina ledare:
FFFFKFB – Forum För Främjandet av den Fria Kulturen på FaceBook. Vi föreslår att fria kulturarbetare kommer fram till ett manifest ett, manuskript, en skrivelse, en text som innehåller ett förslag hur pengar för den fria kulturen ska hanteras. Tanken är att via denna grupp gör en gemensam formulering.
Gå gärna med i denna grupp!
:::::::::::::::::::::::::::
Brötz Inträde: 100 kr swish eller cash
Öppnar: 19.30
Gästande musiker säljer ofta LP och CD.
Permanenta musiker som driver BrÖtz har även de CD´s till salu. Mycket bra musik att roa sig med under tiden för den långa väntan till nästkommande veckas BrÖtz.
Köpglädjen är den sannaste glädjen!
Stöd gärna musikerna!
http://www.facebook.com/musicloversgProgrammet:
http://brotznow.se/#home
Tillgänglighet:
http://www.t-d.se/…/Konstepidemin/Konstepidemin-Attan/
Väl mött!
www.brotznow.se
https://www.facebook.com/BrÖtz-305847972764528