ONSDAG 9 FEBRUARI 2022 KL. 19:00 BrÖtz no. 831 Owe Almgren & Åke Linton + Oswald/Nästesjö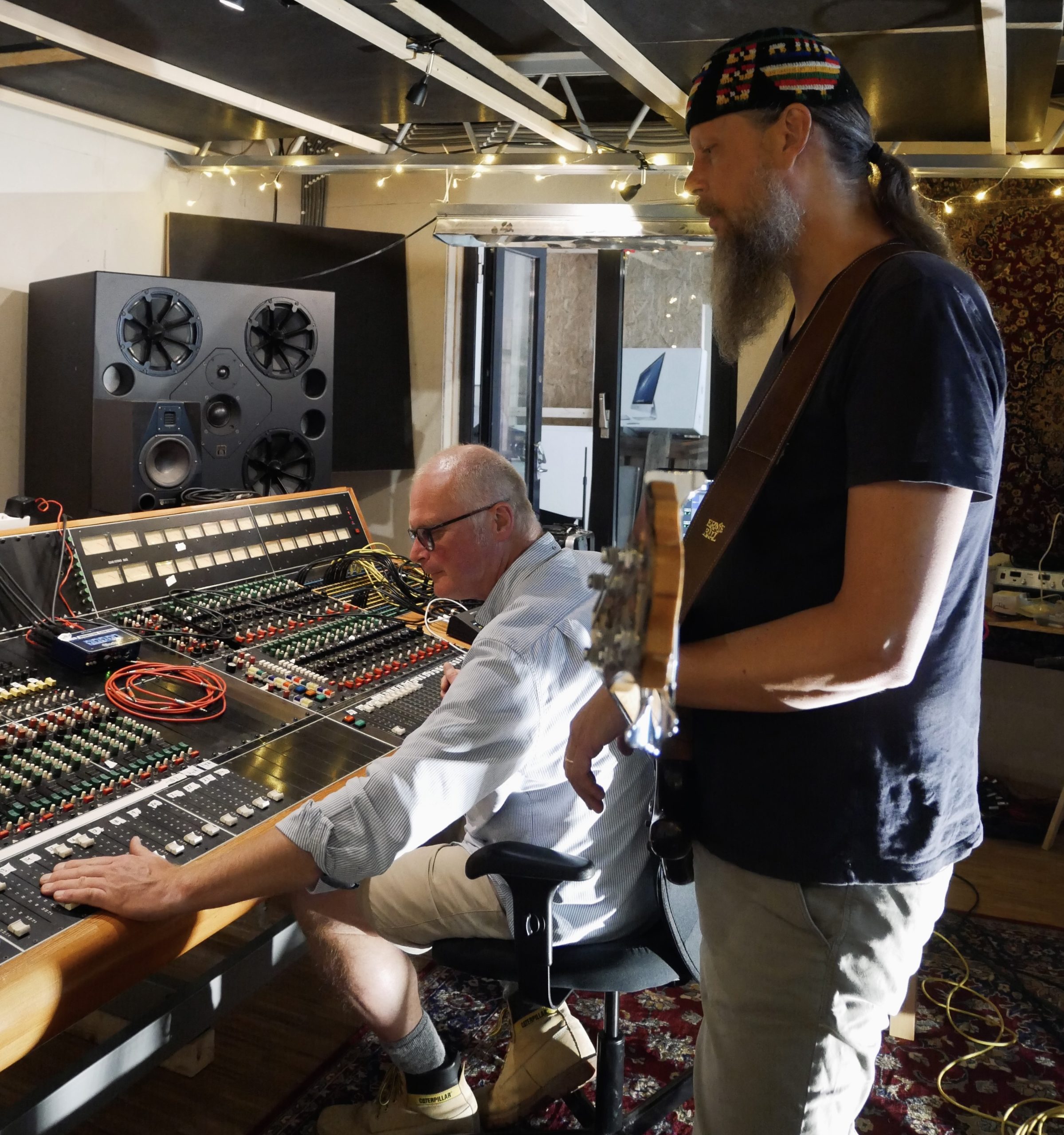 Owe Almgren & Åke Linton the Vancouver project
Owe Almgren-bas
Åke Linton- elektronik
::::::::::::::::::::::::::::::::::::::::::::::::::::::::::::::::::
Oswald/Nästesjö.
Margaux Oswald: Piano
Johannes Nästesjö: Kontrabas
.:::::::::::::::::::::::::::::::::::::::::::::::::::::::::.
Vancouver is the continuation of electric bassist Owe
Almgren's previous solo projects "basically low key"
and "I Owe You Listeners My Music", both recorded
by legendary sound engineer Åke Linton.
In this duo project Åke steps in and creates different
soundscapes that Owe explores in seven
improvisations, where recordings of sound
environments from different places in Gothenburg
have also been added.
Åke Linton, for many years counted as the fourth member of E.S.T. collaborates today, with among others, Tonbruket
and Rymden. He is the music technician behind countless Swedish jazz productions and also works with Swedish TV.
Since 2010, he has had his studio at Svenska Grammofonstudion in Gothenburg. Åke feels humbled to have been in the
service of music for over 40 years.
Owe Almgren has for several years been involved in developing and renewing the electric bass in improvisational
music. His exploration can be heard in his solo projects "basically low key" (2007), "I Owe You Listeners My Music"
(2015) and in the current "Vancouver" (2021). A dynamic, groovy electric bassist and a virtuoso improviser, active in
Sweden and internationally since the 1990s, with among others, Martina & Owe Almgren Quartet, MOZ Trio with
London jazz pianist Zoe Rahman, Owe Almgren Jazz Trio, barT feat Jim Beard, biorn quartet and Bohuslän Big Band
plays Zappa.
Vancouver was recorded at Svenska Grammofonstudion in Gothenburg autumn 2020.
Download press photos:
www.owealmgren.com
www.ohyeahrecords.com
.:::::::::::::::::::::::::::::::::::::::::::::::::::::::.
Oswald/Nästesjö. Två glödheta musiker från Øresundsscenen som tillsammans bildar en extremt lyhörd och orädd duo med referenspunkter från både den nutida konstmusiken samt den Improviserade scenen.
Margaux Oswald är en pianist med fransk-filippinskt ursprung, född i Geneve och numera baserad i Köpenhamn. Hon har spelat piano sedan 5 års ålder och är numera dedikerad till den fria improvisationen. Till Oswalds samarbetspartners hör bl.a. Sture Ericson och Kasper Tranberg.
Johannes Nästesjö har sedan 20 år varit aktiv inom scenerna för modern jazz, impro och nutida klassisk musik och har turnerat flitigt i Europa, Amerika, Afrika och Asien och medverkat på mer än 40 skivor. Agustí Fernández, Lotte Anker till Sten Sandell och Joe Morris är några av en lång rad med musiker som Johannes har samarbetat med. Han bedriver även konstnärlig forskning (Advanced Post Graduate Diploma) på Rytmiske Musikkonservatorium i Köpenhamn.
Jan Hocek från Jazzport har skrivit följande om Oswald: "She literally fused with the instrument, forming a single living organism full of emotions with the piano. The variably thickening minimalist areas alternated with meditative dives and free jazz storms. Shards of melodies stroked and injured, tones in lower positions rumbled and gurgled, high ones then cut steel into the ears. Impressions of liberated, crystal-clear tones plunged into the dense lower drone, then dissected, disturbed, and then the wild-minded ones crushed with relentlessly tense expression…" (Jan Hocek, Jazzport.cz)
:::::::::::::::::::::::::::::::::::::::::::::::::::::::::::.
INFO:
MESSENGER UTSKICK….och maillista:
Vi har startat en Messengergrupp som heter
BrÖtz This Week för att kunna skicka inbjudningar/påminnelser på ett smidigt sätt.
Hör av dig digitalt till info (at) brotznow.se så addar vi…
Vill du också/hellre vara med på en mailutskickslista så skriv till henrik (at) Wartel.se
FFFFKFB
Det finns numera också en FFFFK grupp på Facebook: FFFFKFB – Forum För Främjandet av den Fria Kulturen på FaceBook. Vi föreslår att fria kulturarbetare kommer fram till ett manifest ett, manuskript, en skrivelse, en text som innehåller ett förslag hur pengar för den fria kulturen ska hanteras. Tanken är att via denna grupp gör en gemensam formulering.
Gå gärna med i denna grupp!
:::::::::::::::::::::::::::
Brötz Inträde: 100 kr swisch eller cash
Öppnar: 19.00
Konsertstart: 19.30
Music lover records säljer grymma plattor
http://www.facebook.com/musicloversgProgrammet
:
http://brotznow.se/#home
Tillgänglighet:
http://www.t-d.se/…/Konstepidemin/Konstepidemin-Attan/
Väl mött!
www.brotznow.se
https://www.facebook.com/BrÖtz-305847972764528
Visa mindre