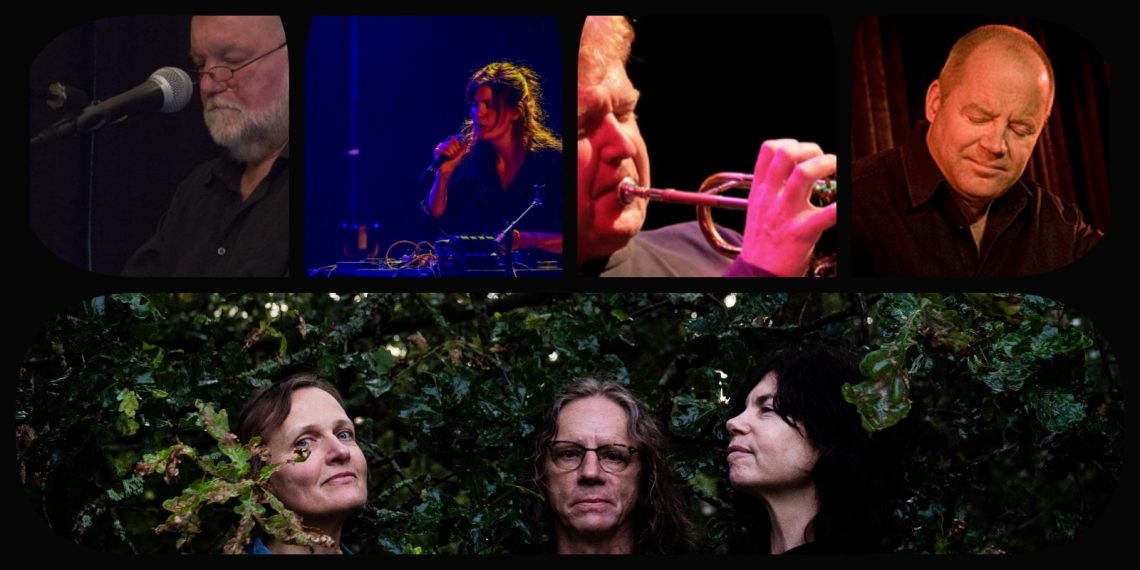 ONSDAG 25 MAJ 2022 KL. 19:00 BrÖtz no. 842
Svensson Sörling Svensson Kjellberg + Quagmire
Svensson Sörling Svensson Kjellberg
Harald Svensson-pi
Isabell Sörling-voice
Staffan Svensson-tr
Anders Kjellberg-trummor
::::::::::::::::::::::::::::::::::::::::::::::::::::::
Quagmire
Nina de Heney – bas
Karin Johansson – piano
Herik Wartel -trummor
Christer Bothén KOMMER TYVÄRR INTE!!!!!
::::::::::::::::::::::::::::::::::::::::::::::::::::::::::::
Quagmire
This trio's music is an open door into a sometimes swaying inner scenery,depicted in a mesh of shifting vibrations, a succession of sound-paths strewn as seeds . Layers of elaborate rythmical textures spread over an unpredictable spectrum , carpetting the walls of an imaginary acoustic
space that could be a room for yet unknown rituals. Intuitive real-time composition by three of the most acclaimed musicians on the Scandinavian contemporary music scene.
If human experience can sometimes be expressed in sound-thoughts, mantras, well here is an invitation to your inner mantra,your being as a sonic-form.
Their first album,Quagmire, released in September 2019 on Creative Sources has recieved superlative
reviews in the Swedish and international press.
"…At first, I didn't notice the cymbals, but my dog reacted, so I listened again.Small electric impulses through the instrument and the body. This discloses something about the spatial expanse of the music, the ability to remain in one sound-space whilst also reaching to my planetary centrum…."
Thomas Millroth, Orkester Journalen 5/2019
The musicians are:
Nina de Heney double-bass
Karin Johansson piano/prepared piano
Henrik wartel drums/percussion
::::::::::::::::::::::::::::::::::::::::::::::::::
Svensson Sörling Svensson Kjellberg
Förprogrammerade musikslingor, atmosfärer blandas med improvisation och text.
Harald Svensson, synth, har varit en aktiv medlem av den skandinaviska jazzscenen i snart femtio år och genom åren varit medlem av ett flertal formationer av alla de slag: Jazz, frijazz, fusion, visor, folkmusik m.m.
Han har som kompositör skrivit för såväl jazz som kör och dans.
Isabel Sörling, sång/elektronnik är improvisatör i sång, kompositör och musiker. Hon är en artist som fritt navigerar i gränserna mellan improvisation, folkmusik och avantgarde, och blandar sårbarhet med mästerskap. I mars 2020 släppte hon sitt tredje studioalbum "MARELD" på det franska indiebolaget IKI Records.
Hon är också en av initiativtagarna till de båda grupperna FARVEL och Soil Collectors.
Isabel som sedan några år har sin bas i Paris blev 2021 utnämnd till Årets Vokalist i Frankrikes motsvarighet till Grammisgalan, Les victoires de la musique, i jazzkategorin.
Staffan Svensson, trumpet/elektronik. har sedan över tre decennier varit verksam på den skandinaviska och europeiska scenen för jazz och improviserad musik. Från den akustiska till den elektroniska jazzen, tillsammans med samtida och experimentell konstmusik, inklusive samarbeten inom kör- och kammarmusik till multimediauppträdanden med samtida dans.
Han har fått Sveriges Radios pris Jazzkatten till "musiker som förtjänar bredare erkännande/Grand Cru" och Jazzkannan från Svenska Jazzriksförbundet för "nyskapande insatser i svensk jazzmiljö".The world drummer Anders Kjellberg explores, wiyhout hesitatio, the vare spaces  for new ideas that exists in music. Over the years, in collaboration with: Kenny Wheeler, Anders Jormin, Tomaz Stanco, Jon Balke, NHOP, Django Bates, Don Cherry, Enrico Rava, Dewey Redman, Joe Henderson, James Moody, Toots, Monika Zetterlund, Steve Swallow, Bob Berg, Palle Danielsson, Enrico Pieranunzi, Louis Sclavis, and many more.
::::::::::::::::::::::::::::::::::::::::::::::::::::::::
INFO:
MESSENGER UTSKICK….och maillista:
Vi har startat en Messengergrupp som heter
BrÖtz This Week för att kunna skicka inbjudningar/påminnelser på ett smidigt sätt.
Hör av dig digitalt till info (at) brotznow.se så addar vi…
Vill du också/hellre vara med på en mailutskickslista så skriv till henrik (at) Wartel.se
FFFFKFB
Det finns numera också en FFFFK grupp på Facebook: FFFFKFB – Forum För Främjandet av den Fria Kulturen på FaceBook. Vi föreslår att fria kulturarbetare kommer fram till ett manifest ett, manuskript, en skrivelse, en text som innehåller ett förslag hur pengar för den fria kulturen ska hanteras. Tanken är att via denna grupp gör en gemensam formulering.
Gå gärna med i denna grupp!
:::::::::::::::::::::::::::
Brötz Inträde: 100 kr swisch eller cash
Öppnar: 19.00
Konsertstart: 19.30
Music lover records säljer grymma plattor
http://www.facebook.com/musicloversgProgrammet
:
http://brotznow.se/#home
Tillgänglighet:
http://www.t-d.se/…/Konstepidemin/Konstepidemin-Attan/
Väl mött!
www.brotznow.se
https://www.facebook.com/BrÖtz-305847972764528