23/5 BrÖtz no.740 Anna Jedrzejewska + Daniel och Dundret
Osofistikerade utförande-tekniker möter melodiska nav när vi denna vecka får besök från vårt grannland i söder och från den granna storstaden i östra delarna av vårt granrika land.
Välkomna!
Och helt apropos…
FFFFK UNDRAR:
Kan vi via FFFFK samla oss under ett okomplicerat paraply och gemensamt ta vara på våra intressen? I nuvarande form en gång i månaden på BrÖtz.
Anna Jedrzejewska
-solopiano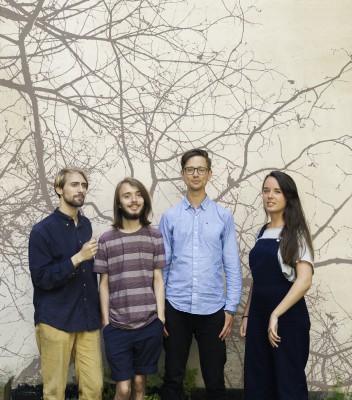 Daniel och Dundret
Daniel Gahrton – sax
Milton Öhrström – piano
Jonas Nilsson – bas
Cornelia Nilsson – trummor
::::::::::::::::::::::::::::::::::::
Anna Jedrzejewska
a solo performance "cognitive recycling" – solo piano,
return too free acoustic improvisation, in XX century music tradition, non sophisticated performing techniques, simple piano preparation, inspiration from punctualism and Vienna classics (Webern, Berg, Schoenberg)
Anna Jędrzejewska – piano
composer, director and author of multimedia spectacles. One of the most advanced in new technologies of Polish artists. Jedrzejewska projects are part of intuitive art activity, based on improvisation and interaction with audience. She mixes music, multimedia and electronics.
:::::::::::::::::::::::::::::::::::::
Daniel och Dundret
Saxofonisten och låtskrivaren Daniel Gahrton driver den säregna frijazzgruppen Daniel och Dundret. I Daniels kompositioner är melodierna navet. Det skapar en organisk känsla som genomsyrar gruppens täta samspel och vågade improvisationer
På det nya dubbelalbumet "Träd", inspireras gruppen av olika träd för att hitta en organisk känsla i musiken. På skivan finns också sviten "Kalhygget", suggestiv musik som spelas av den större versionen av bandet, Daniel och Dunderorkestern, med en pampig träblåskör bestående av Julia Strzalek, Isak Hedtjärn, Robert Neven och Lisa Grotherus.
:::::::::::::::::::::::::::::::::::::::::::::::::::::::
Brötz Inträde: 100 kr swisch eller cash
Öppnar: 20.00
Konsertstart: 20.30
Music lover records säljer grymma plattor
http://www.facebook.com/musicloversgbg
Vårprogrammet:
http://brotznow.se/#home
Tillgänglighet:
http://www.t-d.se/sv/TD2/Avtal/Goteborgs-stad/Konstepidemin/Konstepidemin-Attan/
Väl mött!
www.brotznow.se
https://www.facebook.com/BrÖtz-305847972764528