11/10 BrÖtz no.711 Uuskyla/Ögrim/Berg+Musikerförbundet
Denna vecka får ett vi kärt återhörande av Uuskyla/Ögrim/Berg som besöker oss igen!
Musikerförbundet spelar också …. för första gången på BrÖtz….
För första gången i hela världen dessutom! Premiär yra alltså!
Det är således inte en vanlig kväll på BrÖtz denna onsdag…
(vilket i sig är som vanligt då vi aldrig har en vanlig kväll på BrÖtz.)
och:
Glöm inte FFFFK no.15 på Torsdagskvällen!!! se info längst ner!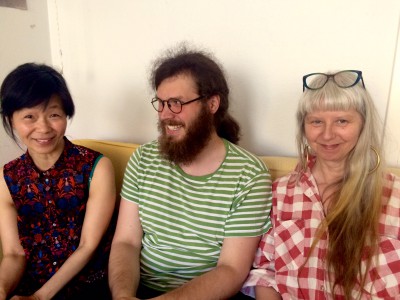 Musikerförbundet
Lisa Ullén – piano
Lise-Lotte Norelius – trummor,elektronik
Emil Skogh – bas, kompositör
Uuskyla/Ögrim/Berg
Peeter Uuskyla – trummor
Tellef Øgrim – gitarr,
Anders Berg – elbas
::::::::::::::::::::::::::::::::::::::::::
Detta blir Musikerföbundets debutspelning.
Ett så kallat lyxband, för Emil iallafall, med några av hans favoritmusiker.
Nu är det dags. De spelar fria melodier med tillhörande improvisationer. Melodierna är skrivna med många stora och små vardagshändelser i åtanke.
Detta är sagt om medlemmarna i Musikerförbundet:
Lisa Ullén är en stark röst för det ramlösa experimenterandet; med en sällsynt klangmedvetenhet arbetar hon fram oortodoxa klanger med flygeln, både med och utan preparering.
Lise-Lotte Norelius har en lång historia som slagverkare med stor erfarenhet från olika områden som traditionell afrikansk musik, experimentell rock, fri improviserad musik och från att använda kombinationen slagverk och samplade ljud, framför allt i gruppen Anitas Livs.
Emil Skogh är en musiker med stor karaktär som alltid gått sin egen väg. Vare sig det handlar om basen, pianot eller komponerandet så visar han upp en stark musikalisk röst som sätter sig i kroppen och stannar där långt efter man hört den.
Kan ni tänka er hur det kommer låta? Kom så får ni se.
:::::::::::::::::::::::::::::::::::::::
Thirty years ago, the trio Power Tools made a one-off recording Strange Meeting (Antilles New Directions, 1987). The long out-of-print LP by Bill Frisell, Melvin Gibbs, and Ronald Shannon Jackson is on many a collector's want list. While only a short-lived band, its memory persists. It was for many, a perfect storm of free-metal-jazz music. If I had one wish, it would be for drummer Ronald Shannon Jackson (1940-2013) to still be with us. And Tony Williams. Okay, two wishes. I miss Elvin Jones, too. Let's stop there.
Jackson and Williams were pioneers in the synthesis of jazz and rock. Both created a fusion music that did not dilute either genre. While we have no more Power Tools music, there is the Scandinavian power trio led by drummer Peeter Uuskyla to fill the void. Uuskyla is probably best known for his work with German free jazz saxophonist Peter Brötzmann. In addition, he has worked with the legend Bengt Nordström and released a captivating solo session Daydreaming Nerves (Omlott, 2014). The drummer is joined here by bassist Anders Berg and guitarist Tellef Øgrim.
The music is charged with the distinct accents of free jazz, rock and blues. All cemented together by Uuskyla's drums. The title track opens with a flurried electric bass run, some scattered guitar, followed by machine gun blasts of drums. The piece thunder crawls behind energized drums and the resurrection of some Sonny Sharrock licks. Uuskyla, the ever inventive pulse master, opens "Shine Your Soul" with handclaps, then simple sticks and brushes on metal and skins that frame the most meditative piece on the recording. The trio plays a phantom funk and blues. Øgrim's guitar on "Disembark Then Board" has the same disaffected sound you might hear from a mutinous Marc Ribot session and Berg's bass hovers somewhere between that of 1970s Stanley Clarke and Last Exit's Bill Laswell. Pulse master Uuskyla glues this affair
Länk https://simlas.bandcamp.com
::::::::::::::::::::::::::::::::::::::::::::::
Inträde: 80kr swisch eller cash
Öppnar: 20.00
Konsertstart: 20.30
Music lover records säljer grymma plattor
http://www.facebook.com/musicloversgbg
Höstprogrammet:
http://brotznow.se/#home
Tillgänglighet:
http://www.t-d.se/sv/TD2/Avtal/Goteborgs-stad/Konstepidemin/Konstepidemin-Attan/
Väl mött!
www.brotznow.se
https://www.facebook.com/BrÖtz-305847972764528
::::::::::::::::::::::::::::
12/10,
FFFFK – Forum För Främjandet av den Fria Kulturen, bjuder åter igen upp till jam och häng. Kom och träffa folk, spåna fram nya projekt, dansa till livemusiken, lyssna och trivs!
Alla är välkomna
Gamla som unga
Erfarna som nybörjare
Alla konstformer.
Du skriver ditt namn på en lapp, lägger i en skål och lottas in i en duo eller trio.
Denna lilla konstellation framför en kort improvisation ihop, sedan dras nya namn.
När skålen är tömd på namn börjar nästa omgång, och vi fortsätter så länge vi orkar.
kl.20 inträde 40. Kr
kommande FFFFK 9/11, 7/12
::::::::::::::::::