Denna vecka får vi besök från Schweiz! Nästan alla i Laura Schulers Kronikor
kommer därifrån men gruppen bildades i Stockholm. Hur det gick till får vi säkert reda på denna kväll…. eller vi får helt säkert höra resultatet!
Not On The Guest List är ett celebert besök från Norge vilket fullbordar kvällen!
På väggen hänger dessutom två tavlor av Lucio Gonzales till försäljning och så finns det skivor i mass från artisterna och Music Lovers Records
Köp och och lyssnarglädje i mass alltså… Missa Inte!
Laura Schulers Kronikor
Laura Schuler, violin and composition
Lisa Grotherus, clarinet and bassclarinet
Anatole Buccella, guitar
Silvan Jeger, doublebass
Lukas Rutzen, drums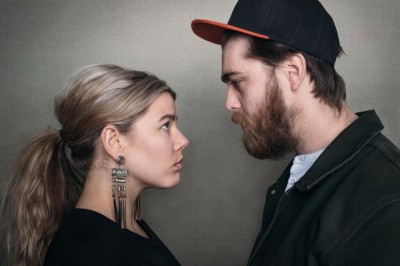 Not On The Guest List
Natalie Sandtorv, vox, percussion
Ole Mofjell, percussion, misc
……………………………………………………..
Laura Schulers Kronikor
"Three years ago Laura Schuler felt the desire of moving to Scandinavia. For two years, looking for her own musical language, she went on a quest in the vast emptiness of the northern lands, which resulted in compositions for her first CD with KRONIKOR. The manifold impressions from those years have now been unified in the music of this quintett. With immense curiosity and ingeniousness, the bandleader takes musical elements from various traditions and puts them together in new variations. Apart from presenting carefully structured compositions, the main point of the album is to give room to spontaneity and the magic of the moment. This music allows every single musician of the band to contribute his or her very particular sound."
http://www.lauraschuler.net/kronikor/
Not On The Guest List is a musical journeynotto be missed. Mixing whirlwind percussion
with groundbreaking vocal, this duo goes to the edge of the earth and beyond. Having
worked several years with guitarist such as John Hegre and Torgeir Standal, Sandtorvs
voice isnotbound by any restrictions. Meeting Ole Mofjell in this duo, the silver tongued
vocal artist uses improvised lyrics blended together with her enormous vocabulary of
extended vocal techniques. Mofjells drums are persistent and fowing, always working in
circularities and waves. This heavy hitting duo takes elements from free jazz, punk rock
and avant-pop and efectively takes all to a whole diferent and exciting place.
::::::::::::::::::::::::::::::::::::::::::::::
Inträde: 80kr swisch eller cash
Öppnar: 20.00
Konsertstart: 20.30
Music lover records säljer grymma plattor
http://www.facebook.com/musicloversgbg
Höstprogrammet:
http://brotznow.se/#home
Tillgänglighet:
http://www.t-d.se/sv/TD2/Avtal/Goteborgs-stad/Konstepidemin/Konstepidemin-Attan/
Väl mött!
www.brotznow.se
https://www.facebook.com/BrÖtz-305847972764528