13/9 no.707 Per-Åke Holmlander + HoJ
Denna vecka har BrÖtz öppet i kvällarna två då det åxå blir FFFFK med jam på torsdagskvällen. Se info nedan! Onsdagens konsert blir spännande värre där Per-Åke Holmlander bjuder på tubasolo i världsklass! Andra set blir en reunion med P-Å och bröderna Wartel. De tre musikerna har tidigare spelat tillsammans i grupperna
Big Carliot, Half Nelson och Position Alpha. Nu gör de en längre mellansvensk turné tillsammans! Här följer hela turnéplanen:
Onsdag 13/9 BrÖtz Göteborg, Torsdag 14/9 vilodag, Fredag 15/9 Sångbolaget Stockholm

Extremt högkvalitativ och inspirerande musik utlovas i en trivsam och avslappnad miljö!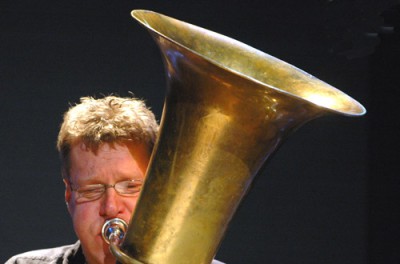 Per-Åke Holmlander – Tuba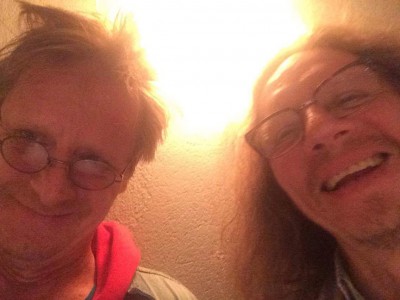 HoJ
Henrik Wartel – Trummor
Jonny Wartel – saxofon
::::::::::::::::::::::::::::::::::::::::::

PER–ÅKE HOLMLANDER
www.carliot.org

…born in 1957 in Skellefteå in the very north of Sweden. Holmlander received his diploma in classical tuba in 1983 at the Royal Academy of Music in Stockholm with Michael Lind as a teacher. Holmlander has always worked simultaneously with improvisation, jazz and rock music as well as classical and contemporary music.
As an improviser Holmlander has worked with – Eje Thelin, Marilyn Crispell, Paul Lovens, Folke Rabe, Phil Minton, Sten Sandell, Sven-Åke Johansson, Mats Persson, Gunter Christmann, Kjell Westling, Keith Rowe, Jan Allan, Georg Riedel, Position Alpha, DJustable, Jon Vanderlander Trio, The Swedish Radio Jazz Group, Ken Vandermark – Territory Band & Resonance Ensemble, The Frontroom Ensemble, London Jazz Composers Orchestra, Torden Kvartetten & Peter Brötzmann Chicago Tentet…among many others.
Holmlander works a lot with theatre music, sometimes he plays solo and he regularly works with Fire! Orchestra, Paal Nilssen-Love Large Unit, Barry Guy New Orchestra, Fredrik Ljungkvist and his Yun Kan 5 & 10 and recently with Parti&Minut, Swedish azz, Inner Ear & Mats Gustafsson NU-Ensemble.
Per-Åke has participated in more than 100 records and 1800 theatrical performances. He has given concerts in 37 countries and he is since December 2008 a member of the government run – Musikalliansen.
"Improvisation är den noggranna förberedelsens belöning."
"The art of improvisation is the reward of careful preparation."
– Olof Palme –
HoJ – Henrik och Jonny Wartel
https://simlas.bandcamp.com/album/hoj
(digitalt nyutgiven skiva!)
HoJ bildades den 4:e februari 1959 då Jonny föddes och Henriks då dryga två års soloprojekt avslutades. Sedan dess har de två musikerna samarbetat i en mängd olika konstellationer som t.e.x. Tajphoon Tivoli och Position Alpha. -Två i det närmaste kultgrupper verksamma framför allt i Göteborg under 80-talet-
Just nu är de också tillsammans aktuella i grupperna Jonny Wartel 4-tet och Urgent Call.
Musiken är spontan och sann.
:::::::::::::::::::::::::::::::::::::::::
Inträde: 80kr swisch eller cash
Öppnar: 20.00
Konsertstart: 20.30
Music lover records säljer grymma plattor
http://www.facebook.com/musicloversgbg
Höstprogrammet:
http://brotznow.se/#home
Tillgänglighet:
www.t-d.se/sv/TD2/Sokresultat/?q=konstepidemin+ått
Väl mött!
www.brotznow.se
https://www.facebook.com/BrÖtz-305847972764528
:::::::::::::::::::::::::::::
FFFFK – Forum För Främjandet av den Fria Kulturen, bjuder åter igen upp till jam och häng. Kom och träffa folk, spåna fram nya projekt, dansa till livemusiken, lyssna och trivs!
Alla är välkomna
Gamla som unga
Erfarna som nybörjare
Alla konstformer.
Du skriver ditt namn på en lapp, lägger i en skål och lottas in i en duo eller trio.
Denna lilla konstellation framför en kort improvisation ihop, sedan dras nya namn.
När skålen är tömd på namn börjar nästa omgång, och vi fortsätter så länge vi orkar.
kl.20 inträde 40. Kr
kommande FFFFK 14/9, 12/10, 9/11, 7/12
::::::::::::::::::