10/5 BrÖtz no.702 Les Femmes Savantes
Denna vecka bjuder BrÖtz på celebert besök av denna fantastiska kvartett som kommer att underhålla hela kvällen i olika konstellationer. Läs info här nedan och skynda sedan till BrÖtz! Det är aldrig för tidigt att börja köa!
Extremt högkvalitativ och inspirerande musik och performance utlovas i en trivsam och avslappnad miljö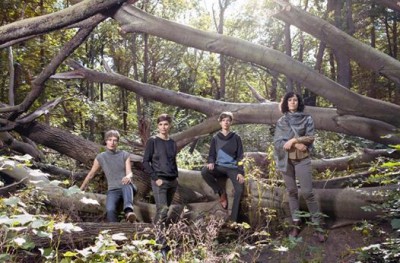 Les Femmes Savantes
Sabine Ercklentz – komposition, trumpet, elektronik
Andrea Neumann – komposition, inside piano, mixer
Ana Maria Rodriguez – komposition, elektronik
Ute Wassermann – komposition, röst
::::::::::::::::::::::::::
Les Femmes Savantes grundades 2005 som en interdisciplinär orkester av fem Berlin-baserade kvinnliga kompositörer/musiker från Tyskland, Argentina och Sverige. På denna turnén medverkar inte den femte originalmedlemmen Hanna Hartman.
Åratal av samarbete har möjliggjort för Les Femmes Savantes att skapa en specifik akustisk identitet som överstiger summan av deras individuella estetiska språk.
Kompositionerna/performancen/installationerna utvecklas och genomförs genom ett tätt sammanknutet samarbete. Varje deltagare turas om att inneha rollen som kompositör, medarbetare, tolkare eller regissör. Dessa skiften av rollfördelningar resulterar i utvecklingen av deras konserter/performance-akter där enskilda såväl som gemensamma verk presenteras. Deras musikaliska spektrum sträcker sig från samtida-, tidsäkta (Echtzeitmusik)- och elektronisk musik samt ljudkonst och jazz.
En rik och varierad mängd av olika medier är införlivade i Les Femmes Savantes kompositioner: Artisternas kroppar blir deras instrument, det offentliga utrymmet blir deras scen, datorer intervenerar kompositionellt med eventen och videoklipp blir deras medmusiker.
http://femmes-savantes.net/en/lesfemmessavantes/les-femmes-savantes/
press opinions
"What Sabine Ercklentz, Andrea Neumann, Ana Maria Rodriguez, Hanna Hartman, and Ute Wassermann present in shifting formations corresponds to the synesthetic multiplicity that nowadays characterizes composing in the broadest sense: sound art, vocal virtuosity, play-action, visual means of expression, and spatial dramaturgy converge." (Gerhard Rohde, Frankfurter Allgemeine Zeitung)
About Les Femmes Savantes (CD 2013, olofbright)
"The eight short compositions in this edition (most of them recorded in 2011) are flawlessly produced. Revealing their wide range of configurations, from quintet to solo, the group showcases a collective engagement with a fascinating kind of music-making in the style/form of a women's artists' collective. The listener is transported right to the heart of the dynamic spatial sound distribution and finds themself quite close to the instruments: details, energetic combinations, tone colors, textures, and equally explicit rhythms swarm and tingle. The sceeching, disjointed and porous way Sabine Ercklentz (trumpet), Hanna Hartman (amplified objects), Andrea Neumann (inside piano, mixer), Ute Wassermann (voice), and Ana Maria Rodriguez (electronics) process the world gives occasion to swoon." by Guillaume Tarche, http://grisli.canalblog.com/
:::::::::::::::::::::::::::::::
Inträde: 80kr swisch eller cash
Öppnar: 20.00
Konsertstart: 20.30
Music lover records säljer grymma plattor
http://www.facebook.com/musicloversgbg
Vårprogrammet:
http://www.brotznow.se/#post366
Tillgänglighet:
www.t-d.se/sv/TD2/Sokresultat/?q=konstepidemin+ått
Väl mött!
www.brotznow.se
https://www.facebook.com/BrÖtz-305847972764528