3/5 BrÖtz no.701 Anker/Strid + Les Casanovas/Heida Mobeck
Välkomna till ännu ett BrÖtz: Två världsstjärnor möts i en världsstjärneduo och fyra något yngre fantastiska musiker möts i en fantastisk kvartett.
Ihärdiga BrÖtz strävar beundransvärt vidare ikväll med en ihärdigbeundradsvärdsträvandekväll som härmed passerar sjuhundraarrangeradekvällarstrecket!
Extremt högkvalitativ och inspirerande musik utlovas i en trivsam och avslappnad miljö!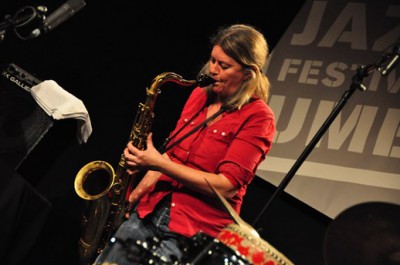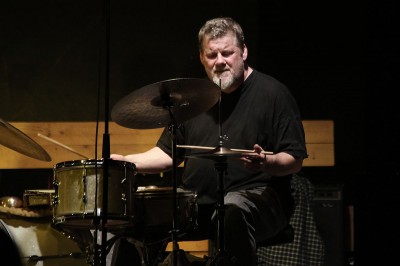 Anker/Strid
Lotte Anker – saxofon
Raymond Strid – trummor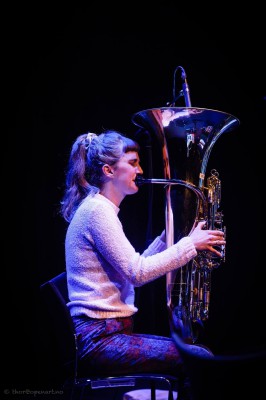 Les Casanovas + Heida Mobeck
Karl Nyberg – saxofon
Martin Lie Svendsen – bas
Henrik Lødøen – trummor
Heida Mobeck – tuba
::::::::::::::::::::::::::::::::::::
Les Casanovas
Scandinavium trio that plats amazing music together with special guestHeida Mobeck heard in groups like "Your Headlights Are On", "Avalanche", "Skadedyr"
Anker / Strid
Lotte Anker is a Copenhagen-based saxophone player and composer working in the field between experimental jazz/improvisation and contemporary music.Her music includes both melodic (often twisted or fragmented) elements and more abstract textural material and covers a wide territory from minimal, transparency to dense and dark expressionism.
Lotte Anker has been initiator and bandleader of a number of highly acclaimed collaborations and groups such as Anker, Taborn, Cleaver (w/ Craig Taborn and Gerald Cleaver), Trio with Sylvie Courvoisier and Ikue Mori, to name a few.Other recent projects are the 8-piece group What River Ensemble, duo with Fred Frith and a quartet with Johannes Bauer, Clayton Thomas and Paul Lovens.Lotte has performed at major festivals and concert spaces in most of Europe, USA, Canada, Asia, Africa and the Middle-East and has also played and toured with Marilyn Crispell, Herb Robertson, Tim Berne, Okkyung Lee, Paal Nilssen-Love, Joelle Leandre, Raymond Strid, Sten Sandell, Andrew Cyrille, Phil Minton, Fred Lonberg-Holm, Peter Friis-Nielsen and many others.
"Raymond Strid started to play the drums relatively late. As he had become addicted to listening to music, sometimes spending eight ours a day in front of the stereo, he was encouraged to start playing himself…"
Det gör han med bravur! Se lite av Raymonds karriär nedan:
Recordings
1988, Now or never, Bauta Rec BAR 8803. Sten Sandell.
1989, Tjo och tjim, Dragon DRLP192. Gush and Sven-Åke Johansson.
1989, Sounds: Contemporary Swedish improvised music, Blue Tower records BTLP 01/02.
1990, From things to sounds, Dragon DRCD 204. Gush
1991, Far from equilibrium, Alice Musik Production ALCD 007. Duo with Paul Pignon.
1993, muntmunt, Blue Tower records BTCD04. Christian Munthe.
1994, Spring tour, Alice Musik Production ALCD 013. Crispell/Jormin/Strid.
1994, Gushwachs, Bead CD002. Gush and Phil Wachsmann.
1994/1995, You forget to answer, Maya MCD 9601. Guy/Gustafsson/Strid.
1996, gryffgryffgryffs, Music & Arts CD-1003. Guy, Gustafsson, Strid, Crispell.
1996, Live at Fasching, Dragon DRCD 313. Gush.
1996, Live in Tampere, Dragon DRCD 327. Gush.
1996, Electric eel, QBICO 30. Gush.
1997, Hidros one (1997), Caprice 21566.
1998, Die harke und der spaten, Umlaut Records UMFR-CD04. Sven-Åke Johansson.
1998, Scratch match, Penumbra CD009. Duo with Michael Zerang.
1999, Sounds 99, Blue Tower Records BTCD 09/10/11.
2000, Inscape – Tableaux, Intakt CD 066. Barry Guy New Orchestra.
2000, Walk, stop, look and walk, Crazy Wisdom 004. LSB.
2000, Chain of accidents, Ayler Records aylCD-035. The Electrics.
2000, Here there, Fylkingen FYSP 1005. Lehn – Strid. vinyl 7″.
2000, Pipeline. Corbett vs. Dempsey CvsD CD 010. Pipeline.
2001, Two days in December, Wobbly Rail WOB-012. Ken Vandermark.
2002, Bulbs, Slamcd 250. Unsolicited Music Ensemble.
?, 25th NWM, Ninth World Music NWM0 25 CD. One track on compilation CD.
2003, Gush 25, No label. Gush.
2003, Tidszon, Creative sources CS 014. UNSK.
2003, Fungus, moserobie CD014. LSB.
2003, In winds, in light, ECM 981 1231 (ECM 1866). Anders Jormin.
2003, Norrköping, Atavistic ALP161CD. Gush.
2004, Oort-Entropy, Intakt CD 101. Barry Guy New Orchestra.
2004, Moserobie Jazz Manifesto, Moserobie CDBOX 01. LSB on this compilation box.
2005, Live at the Glenn Miller Café, Ayler Records aylCD-034. The Electrics.
2006, Free The Jazz Free The Jazz Discs FREE#1. Eric Oscarsson and the Perspectives.
2006, Live at the Glenn Miller Café, Ayler aylDL-054. Martin Küchen Trio. Available only as a digital download.
2006, 9 moments, Red Toucan 9333. Houle/Léandre/Strid.
2006, Tarfala, Maya Recordings MCD0801. Guy/Gustafsson/Strid.
2007, Beam stone, psi 09.02. Nilsson/Sandell/Strid.
2007, "…was there to illuminate the night sky…", Clean Feed CF149CD. Trespass Trio.
2008/9, Yellow bell, Umlaut Records UMLÅDA2. Duo with Roland Keijser.
2009, Last seen headed, Ayler Records AYLCD-096. Joëlle Léandre/François Houle/Raymond Strid.
2009, Discus and plumbing, Peira records PM11. Lonberg-Holm/Strid Duo.
2009, Wazifa, psi 10.04. Thomas/Strid/Thomas.
2009, Kege Snö, Umlaut Records umcd0010.
2009, Syzygy, No Business Records NBLP35. Tarfala Trio.
2009, Härlig är jorden, TrilobitCD01. Gösta Rundkvist.
2010, Mad dogs, Not Two 902-2 (5CD set). Barry Guy New Orchestra small formations.
2010, Mats Gustafsson/Raymond Strid – RIIS and the Smooth Ones —- Hockey, Gaffer Records split 10″ vinyl.
2011, Bruder Beda, Clean Feed CF251CD. Trespass Trio.
2011, Birds, dEN Records dEN 008. Mats Gustafsson/John Russell/Raymond Strid.
2012, Exit!, Rune Grammofon RCD 2138. Fire! Orchestra.
2012, Fylkingen, ILK Music ILK208LP. The Electrics.
2012, THE ÄGG, Found You Recordings FYR026LP-IS07. THE ÄGG.
2012, Human encore, Clean Feed CF269CD. Trespass Trio + Joe McPhee.
2012, Mad dogs on the loose, Not Two 925-2 (4CD set). Barry Guy New Orchestra small formations.
2012, Ten, Hoob Records HOOBCD035. Fredrik Ljungkvist Yun Kan 10.
2013, Amphi – Radio rondo, Intakt CD 235. Barry Guy New Orchestra.
2013, The march, Konvoj Records KOR005. Gush.
2014, Enter, Rune Grammofon RCD 2158. Fire! Orchestra.
2014, Oslo/Wien, Va Fongool VAFCD014. Henrik Munkeby Nørstebø/Raymond Strid/Nina De Heney.
2014, Voice & percussion, Creative sources CS 334. Andreas Backer/Raymond Strid.
::::::::::::::::::::::::::::::::::::
Inträde: 80kr swisch eller cash
Öppnar: 20.00
Konsertstart: 20.30
Music lover records säljer grymma plattor
http://www.facebook.com/musicloversgbg
Vårprogrammet:
http://www.brotznow.se/#post366
Tillgänglighet:
www.t-d.se/sv/TD2/Sokresultat/?q=konstepidemin+ått
Väl mött!
www.brotznow.se
https://www.facebook.com/BrÖtz-305847972764528