Brötz no. 629 29/4 Circadia & Sandtorv/Mofjell
Denna veckas konsert är en del av GMLSTN Jazzfestival.
Vi delar lokal denna kväll med "MUSIKKLUBBEN – House of world, jazz & soul" som drar igång redan 18.00.
Brötz har denna onsdag äran att presentera två fantastiska grupper med improvisatörer av god kaliber.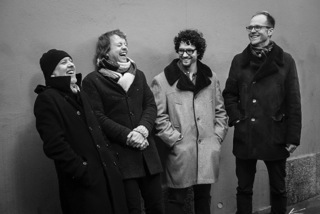 Circadia
Tony Buck (AU) -trummor
Kim Myhr (NO) – gitarr
David Stackenäs -gitarr
Joe Williamson – bas
Gruppen begick sin debut på Fylkingens 80-års jubileum i nov 2013 och blev därefter omnämnda i Sound of Music som en av årets musikaliska höjdpunkter.
Med sin besättning på två akustiska gitarrer, bas och trummor är den instrumentala utgångspunken ett slags «back to basics», men musiken kommer helt säkert vara allt annat än det.
Sandtorv/Mofjell
Natalie Sandtorv – röst
Ole Mofjell – trummor
Natalie Sandtorv er vokalist som både bruker ord, såvel som abstrakte lyder i sin improvisasjon. Med kraftige hysteriske utbrudd blandet med til tider sarte tekster er alle veier mulige å gå i denne sjangerfrie improvisasjonen. Sammen med Ole Mofjells schizofrene trommespill, er denne duoen full av intensitet og kontant samspill.
Dessutom:
Music lover records säljer grymma plattor
http://www.facebook.com/musicloversgbg
60 kr inträde
Cash is king
kl 20.00
(Brötz första konsert börjar 20.30)
Väl mött!
www.brotznow.se
http://www.youtube.com/user/brotzbrotzbrotz