6/11 BrÖtz no.786 Rainer/Vassbø + Mariage/Cosseron
OBS! Read This!
För att se menyn med info, program, filmer osv måste du välja Desktop Version på mobil och surfplatta!
Cellphone and tablet users: You have to check Desktop Version to be able to see the menue with info, program, film clips etc.
!!!!!!!!!!!!!!!!!!!!!!!!!!!!!!!!!!!!!!!!!!!!!!!!!!!!!!!!!!!!!!!!!!!!!!!!!!!!!!!!!!!!!!!!!!
For full view. Menu etc. please follow instructions!
SCROLL DOWN ! Check desktop version at the bottom!
!!!!!!!!!!!!!!!!!!!!!!!!!!!!!!!!!!!!!!!!!!!!!!!!!!!!!!!!!!!!!!!!!!!!!!!!!!!!!!!!!!!!!!!!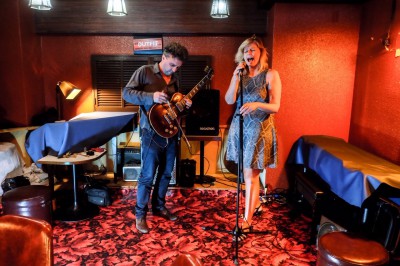 Mariage/Cosseron
Guylaine Cosseron – voc
Jean-Sébastien Mariage – guitar
Rainer/Vassbø
Joakim Rainer Petersen – piano
Ingvald Vassbø – slagverk
::::::::::::::::::::::::::::::::::.

The Duo Mariage/Cosseron visits the in-between, not of the sound but its meaning. It is the association of two musicians and only this that will define a sound object, an aesthetic, an ethic. For here each one works elsewhere, limiting by their respective sounds an empty environment, free to all interpretation. Their only desire is to create this link which by its mixture, its spinning, will reveal a form which, whatever one says, always presents itself as an end.
Attached exclusively to this attempt, they allow each listener to
ee better than them even what will come out of it, not with certainty, but on the contrary, with the distance to oneself that imposes itself then.
::::::::::::::::::::::::::::::::::::::::::::::::::::::::::::::::
Rainer/Vassbø
Trondheims-baserte Vassbø/Rainer duo spiller improvisert musikk med referanser som strekker seg fra europeisk fri-improvisasjon til moderne klassisk musikk og jazz. I denne duoen utfordres instrumentenes konvensjonelle grenser og potensial gjennom dynamisk samspill med fokus på klang og tekstur. Begge musikerne spiller i flere band og ensembler som er aktive i Norge og Europa, som Juno, Kanaan, Stroboskop, SEUL ADORE og Øyvindland. Gjennom disse prosjektene og en rekke andre konstellasjoner har de vist seg som sterke og uredde improvisatører.
::::::::::::::::::::::::::::::::::::::::::::::::::::::::::::::::::::::::
INFO:
MESSENGER UTSKICK….och maillista:
Vi har startat en Messengergrupp som heter
BrÖtz This Week för att kunna skicka inbjudningar/påminnelser på ett smidigt sätt.
Hör av dig digitalt till info (at) brotznow.se så addar vi…
Vill du också/hellre vara med på en mailutskickslista så skriv till henrik (at) Wartel.se
FFFFKFB
Det finns numera också en FFFFK grupp på Facebook: FFFFKFB – Forum För Främjandet av den Fria Kulturen på FaceBook. Vi föreslår att fria kulturarbetare kommer fram till ett manifest ett, manuskript, en skrivelse, en text som innehåller ett förslag hur pengar för den fria kulturen ska hanteras. Tanken är att via denna grupp gör en gemensam formulering.
Gå gärna med i denna grupp!
:::::::::::::::::::::::::::
Brötz Inträde: 100 kr swisch eller cash
Öppnar: 20.00
Konsertstart: 20.30
Music lover records säljer grymma plattor
http://www.facebook.com/musicloversgbg
Vårprogrammet:
http://brotznow.se/#home
Tillgänglighet:
http://www.t-d.se/sv/TD2/Avtal/Goteborgs-stad/Konstepidemin/Konstepidemin-Attan/
Väl mött!
www.brotznow.se
https://www.facebook.com/BrÖtz-305847972764528