30/10 BrÖtz no.785 Zoe Efstathiou – Egil Kalman Duo + Håkan Strängberg Quartet
OBS! Read This!
För att se menyn med info, program, filmer osv måste du välja Desktop Version på mobil och surfplatta!
Cellphone and tablet users: You have to check Desktop Version to be able to see the menue with info, program, film clips etc.
!!!!!!!!!!!!!!!!!!!!!!!!!!!!!!!!!!!!!!!!!!!!!!!!!!!!!!!!!!!!!!!!!!!!!!!!!!!!!!!!!!!!!!!!!!
For full view. Menu etc. please follow instructions!
SCROLL DOWN ! Check desktop version at the bottom!
!!!!!!!!!!!!!!!!!!!!!!!!!!!!!!!!!!!!!!!!!!!!!!!!!!!!!!!!!!!!!!!!!!!!!!!!!!!!!!!!!!!!!!!!
Zoe Efstathiou – Egil Kalman Duo
Zoe Efstathiou – prepared piano / modular synthesizer / electronics
Egil Kalman – modular synthesizer / double bass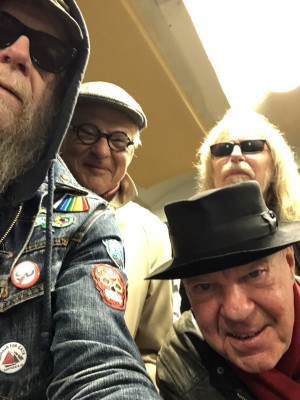 Håkan Strängberg Quartet
Mats Eklöf – tenorsax and voice
Håkan Strängberg – trombone and voice
Nikke Ström – Electric bass
Peeter Uuskyla – drums
:::::::::::::::::::::::::::::::::::::::::::::::::::::::::::::::::::::::::::::::

Håkan Strängberg Quartet is a free, spontaneously improvising Group"We remember Archie Shepps definition of jazz:
Sound and EnergyAnd all these old guys has been on the outside border of jazz for a long time…"
::::::::::::::::::::::::::::::::::::::::::::::::::::::::::::
Zoe Efstathiou / Egil Kalman Duo
 zoe efstathiou – prepared piano / modular synthesizer / electronics
egil kalman – modular synthesizer / double bass
The Duo
The duo explores the materiality of space by sculpting sound objects which are dynamically changing through interaction and improvisation. Subtle nuances alter the surface characteristics and boundaries of the objects, evoking a sensuous and tangible experience and creating an environment where the boundaries between the acoustic and electronic world become unclear. The piano, through the use of extended techniques, objects and microphones is explored in its timbral possibilities and serves as a surface for tactile explorations, often imitating the electronic world. The modular synthesizers take the form of physical masses, projecting the gravitational and material attributes of the sound with their formations. By tracing the microlevel sound articulations and the through timbral explorations of acoustic and electronic intstruments, large scale forms are created where the momentary interpolates with the ever evolving.The music reflects the ephemeral, the transient state between future and past, inviting the listener to experience time as a superficial characteristic of reality.
The duo has been working together for two years and has performed and toured in Scandinavia and Europe. Among others, they have performed at Copenhagen Jazz Festival, Onassis Cultural Center in Athens, Inter
Arts Center in Malmö and FriForm in Trondheim, Sound in Motion Festival Athens. The following is a video of a live performance of the duo made in collaboration with Danish filmmaker Kristoffer Juel.
https://vimeo.com/260585594
We are interested in exploring different spaces and social morphologies and reaching diverse audiences and
have previously presented different interdisciplinary projects involving dance and visual arts. Our upcoming performance-installation, 'Athroa' a multi-channel mixed electroacoustic work, combining an improvised performance with an interactive light installation due to be completed in late 2018, is fully funded by the Swedish Arts Grants Committee and will be realised during our residency at Inter Arts Center in Malmö.
Following is a concert review regarding one of the duos latest performances:
https://politiken.dk/kultur/musik/art6679719/Et-urtebed-i-flyglet-gav-en-beåndet-meditationsstund-under-
Freedom-Music-Festival

The album – Alkekung
The music have emerged out of the duo's textural improvisations. The tracks are all recorded live and with no overdubs. The piano is completely acoustic and there has been no live processing or use of effects on the piano. Our music explores the co existence of acoustic and electronic sonic formations and is often going into territories where the distinction between them becomes unclear. The synthesizer sound was recorded using both direct sound and microphones in the room. Speakers were turned toward the walls of the concert hall and reflections were also recorded. The piano was recorded with multiple microphones in order to highlight both the piano sound in the room but also bring forth detailed sonic images. The recording focuses in exploring the relation between acoustic and electronic sounds and their interaction in space and the ways the electronic sounds are transformed into quasi-acoustic material entities with as they are projected in space. The album has been recorded in Gothenburg at the concert hall of the Academy of Music and Drama and mixed in Trondheim by Kyrre Laastad. By translating the improvised performance space into this recording we want to invite the listener into exciting sonic spaces in all their detail and articulation. The album is due to be released in early 2019 by Gotta Let It Out in Denmark and Alkekung Records in Sweden.
Musicians CVs
Zoe Efstathiou Pianist, improviser and composer from Greece, living in Sweden and Denmark. She is working with contemporary piano techniques, exploring and expanding the sonic and textural
possibilities of the piano in improvised performances, and the relationship of the pianist with different spaces and social morphologies. She is also working with electroacoustic composition and modular synthesizers and the relationship between acoustic and electronic events. She has worked extensively with improvised music and has presented her music with different constellations in Scandinavia and Europe. Among others, she has performed at the Athens Concert Hall, A L'arme Festival Berlin, Copenhagen Jazz Festival, Nordisk Råds Musikkpris, Onassis Cultural Center SGT Athens, the greek national television (ERT) show 'simeio art'. She is the first female instrumentalist to have studied improvised musicin her country and in 2013 was selected to perform her compositions at the prestigious festival Greek Jazz Panorama – New Generation as one of the most promising improvising musicians of her generation. In 2017 her performace at A l'Arme festival in Berlin with the trio New Roots Trio together with Natalie Sandtorv and Ole Mofjell, which was characterized as an 'improvisational masterpiece' by the german newspaper derFreitag.
As a composer, she is particularly interested in interdisciplinary projects and has worked with visual artist Deniz Angelaki and has writen music for dance performances. Her upcoming composition/ installation 'Athroa' is funded by the Swedish Art Grants Committee. https://soundcloud.com/zoe-efstathiou
zoiefstathiou.com https://www.facebook.com/zoeefstathioumusic
Previous concert reviews:
Regarding Zoe Efstathiou Quintet – Music Composed by Zoe Efstathiou
''Emotionally and intellectually i witness somehting i've never experienced before. After inviting her audience inside her performance through a kind presentation of the band, Zoe Efstathiou takes us into an unconventional, yet very appealing landscape of improvised music. Even though we never know where we'll go, Efstathiou on the piano constantly has the role of the leader and makes both her audience and her band feel safe and curious. The performance is a great experience all the way through.'' Dorte Hygum Sørensen – Politiken (Denmark)
Regarding New Roots Trio's performance at A l'arme Festival in Berlin, music co-composed together with Natalie Sandtorv and Ole Mofjell"Natalie Sandtorv succeeded with her new project, the new roots trio, with an improvisatory masterpiece. in this composed concert for voice, prepared piano and drums, she was supported by the norwegian drummer ole mofjell and the greek pianist Zoe Efstathiou, who is also known as the master of the prepared piano.''
Egil Kalman Swedish bass player and synthesist, improviser and composer. An eclectic musician who swings between noise and folk. As a bass player his style is visceral and grounded and as a synthesist he works directly with the raw sound of electronics, opting out of hiding the sound with any external effects.
He's a very active player on the scandinavian scene for experimental music and has toured around Europe and Asia together with musicians such as: Tobias Delius, Lotte Anker, Eirik Hegdal, Brute Force, Lars Greve, Ole Mofjell, Marthe Lea, Hans Hulbaeckmo, Guro Kvifte Nesheim to name a few. Highlighted perfomances include Molde Jazz Festival, Kongsberg Jazz Festival, Trondheim Jazzfest, Stavanger MaiJazz, Interpenetration Graz, Spektrum Berlin, Blow Out Oslo, Playdate Bergen, Pøkk Trondheim, Friform Trondheim.
Discography:
Rønnings Jazzmaskin – Losen Records Nypan, Stereotomic – Losen Records Brute Force – Va Fongool Titta jag flyger – Øra
Adeln, Greatest Hits – Comedia Records Miman, Ulme – Motvind Records
::::::::::::::::::::::::::::::::::::::::
INFO:
MESSENGER UTSKICK….och maillista:
Vi har startat en Messengergrupp som heter
BrÖtz This Week för att kunna skicka inbjudningar/påminnelser på ett smidigt sätt.
Hör av dig digitalt till info (at) brotznow.se så addar vi…
Vill du också/hellre vara med på en mailutskickslista så skriv till henrik (at) Wartel.se
FFFFKFB
Det finns numera också en FFFFK grupp på Facebook: FFFFKFB – Forum För Främjandet av den Fria Kulturen på FaceBook. Vi föreslår att fria kulturarbetare kommer fram till ett manifest ett, manuskript, en skrivelse, en text som innehåller ett förslag hur pengar för den fria kulturen ska hanteras. Tanken är att via denna grupp gör en gemensam formulering.
Gå gärna med i denna grupp!
:::::::::::::::::::::::::::
Brötz Inträde: 100 kr swisch eller cash
Öppnar: 20.00
Konsertstart: 20.30
Music lover records säljer grymma plattor
http://www.facebook.com/musicloversgbg
Vårprogrammet:
http://brotznow.se/#home
Tillgänglighet:
http://www.t-d.se/sv/TD2/Avtal/Goteborgs-stad/Konstepidemin/Konstepidemin-Attan/
Väl mött!
www.brotznow.se
https://www.facebook.com/BrÖtz-305847972764528