3/4 BrÖtz no. 770 EHM + Dans Les Arbres
OBS! Read This!
För att se menyn med info, program, filmer osv måste du välja Desktop Version på mobil och surfplatta!
Cellphone and tablet users: You have to check Desktop Version to be able to see the menue with info, program, film clips etc.
_______________________________________________________________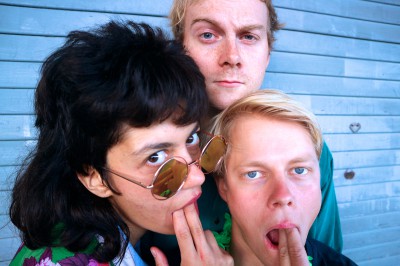 EHM
Marcela Lucatelli – röst
Henrik Olsson – gitarr
Erik Kimestad Pedersen – trumpet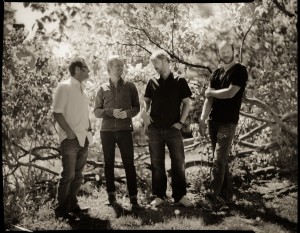 Dans Les Arbres
Xavier Charles – klarinett
Ivar Grydeland – el.gitar
Christian Wallumrød – prep. piano
Ingar Zach – gran cassa, percussion
:::::::::::::::::::::::::::::::::::::::::::::::::::::::::::::::::::::::::::::
EHM arbetar med intensiva och brutala ljudkollisioner, som kräver att alla tre musiker utnyttjar all sin uppfinningsförmåga, och så kallade "extended techniques". Lucatelli, Pedersen och Olsson muterar sina röster, andetag och gitarrsträngar till extrema kaotiska ljudbilder som fortfarande behåller en slags vriden sensuell kvalitet. De har beskrivits av Free Jazz Blog som "bullriga godzillor som njuter av det danska hygget i ett kompakt, svettigt rum". Deras debutalbum släpptes i juli i år och har hittills fått mycket bra mottagande.
Marcela Lucatelli
Marcela Lucatelli kan redan ses som en av de mest innovativa vokalisterna och kompositörerna från sin generation. Lucatelli har fått internationellt erkännande för sina extremt originella, sensuella och politiskt laddade performance stycken. Född i Brasilien, baserad i Danmark och Italien, har hennes stycken utförts av några av de mest progressiva ensemblerna i världen som Apartment House (England), Mocrep (USA), Hidden Mother (Sverige) och hon har uppträtt solo på olika festivaler och internationella evenemang som Nordic Music Days, Darmstadt Internationale Ferienkurse fur Neue Musik, FILE – Festival Internacional de Linguagem Eletronica, Copenhagen Jazz Festival, WOMEX, Áudio Insurgência, Waverly Festival NYU, bland andra evenemang världen över.

Henrik Olsson
Henrik Olsson är en svensk gitarrist och kompositör. Han är en aktiv figur på den experimenterande delen av Köpenhamns blomstrande musikscen och hans personliga gitarrspel kan höras i olika improv sammanhang samt LoFi-trash-improv-projektet The Hum, trion Ytterlandet (Sture Ericson/Henrik Olsson/Håkon Berre) och hans egen grupp Penumbra Ensemble.
Erik Kimestad
Erik Kimestad, norsk trumpetspelare, är baserad i Köpenhamn och är känd från band som det kritikerrosade, flitigt turnerande bandet Horse Orchestra samt Kresten Osgood Quintet.
:::::::::::::::::::::::::::::::::::::::::::
Dans Les Arbres
This quartet stems from work that Ivar Grydeland and Ingar Zach began in duo toward the end of the twentieth century. Grydeland and Zach established the label SOFA, performed as a duo, and started several ensembles in which the two worked with musicians from the European improvised music scene. The duo passed through several stages, but their music really took shape while Grydeland and Zach were studying for their Master's degree in Chamber Music at the Norwegian Academy of Music between 2001 and 2003. Those studies focused exclusively on their own compositions and improvisations. Around the time they gave their graduate concerts, Christian Wallumrød's "Sofienberg Variations" (ECM 1809) was released. Grydeland and Zach felt that Wallumrød's music was related to their own. Seeing a possibilty for musical cooperation, they invited Wallumrød to participate in rehearsals and concerts. This work led Grydeland and Zach to record with Wallumrød.
Parallell to their duo, Grydeland and Zach were also working with bassist Tonny Kluften in a project-based ensemble with the obscure name, No Spaghetti Edition. The core of that ensemble was originally Zach and Kluften, but Grydeland gradually became an equal member. The ensemble core invited guest musicians from diverse genres to join their CD releases, tours and concerts, with a constant focus on large-ensemble improvising. Wallumrød took part in one of the earlier projects. In 2003, No Spaghetti Edition released their third CD ("Real Time Satellite Data", SOFA513). On this release and on the following tour and concerts, French clarinettist Xavier Charles was a guest. Grydeland and Zach were impressed by Charles' music. Feeling he could enhance the work that began with Wallumrød, they invited him to rehearsals.
In early July 2004 they had their first meeting as a quartet. Though it was successful, they weren't able to meet again until 16 months later. That time, they met for another project with No Spaghetti Edition—recording the CD "Sketches of a Fusion" (SOFA520) with Tonny Kluften and the Canadian improviser, Martin Tétreault. Although the focus on "Sketches of a Fusion" is clearly different from "Dans les Arbres," working with "Sketches of a Fusion" and playing concerts with this material and this lineup inspired them to continue their work as a quartet.
In July 2006 Charles, Grydeland, Wallumrød and Zach met again. This time to work on a band sound and to compose music for their first release called "Dans les arbres" – which also is the introduction of the quartet by the same name: Dans les arbres. Since then the band has been touring in Europe, North America and Japan as a quartet. Dans les arbres have also performed with guest musicians such as Yumiko Tanaka, Otomo Yoshihide, Jim O´Rourke and the young Norwegian duo Vilde & Inga.
In 2010 Dans les arbres started recording material for the 2012 release "Canopée" – also this on ECM.
::::::::::::::::::
INFO:
MESSENGER UTSKICK….och maillista:
Vi har startat en Messengergrupp som heter
BrÖtz This Week för att kunna skicka inbjudningar/påminnelser på ett smidigt sätt.
Hör av dig digitalt till info (at) brotznow.se så addar vi…
Vill du också/hellre vara med på en mailutskickslista så skriv till henrik (at) Wartel.se
FFFFKFB
Det finns numera också en FFFFK grupp på Facebook: FFFFKFB – Forum För Främjandet av den Fria Kulturen på FaceBook. Vi föreslår att fria kulturarbetare kommer fram till ett manifest ett, manuskript, en skrivelse, en text som innehåller ett förslag hur pengar för den fria kulturen ska hanteras. Tanken är att via denna grupp gör en gemensam formulering.
Gå gärna med i denna grupp!
:::::::::::::::::::::::::::
Brötz Inträde: 100 kr swisch eller cash
Öppnar: 20.00
Konsertstart: 20.30
Music lover records säljer grymma plattor
http://www.facebook.com/musicloversgbg
Vårprogrammet:
http://brotznow.se/#home
Tillgänglighet:
http://www.t-d.se/sv/TD2/Avtal/Goteborgs-stad/Konstepidemin/Konstepidemin-Attan/
Väl mött!
www.brotznow.se
https://www.facebook.com/BrÖtz-305847972764528