7/2 BrÖtz no.725 O K E R + Mikko Innanen & Simo Laihonen
BrÖtz är universums mittpunkt. BrÖtz är en mötesplats för skandinaviska musiker denna vecka. BrÖtz är en scen som står mitt emellan denna veckans två gruppers hemorter. BrÖtz är ett bra ställe att gå till just för dig denna onsdag.
Allt är sant! Följ sanningen mot en ljus framtid!
Inträdet är höjt till 100 kr men var 6.e gång gratis om du samlat 5 stämlar på ett kort.
Säsongs-kortet fortfarande kvar men med något höjt pris: 700 kr för våren.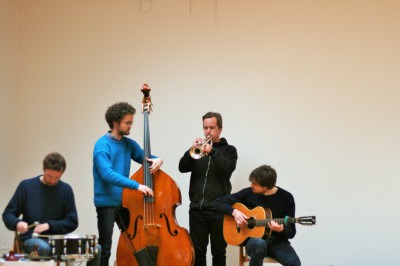 O K E R
Fredrik Rasten – guitar
Torstein Lavik Larsen – trumpet
Adrian Fiskum Myhr – double bass
Jan Martin Gismervik – drums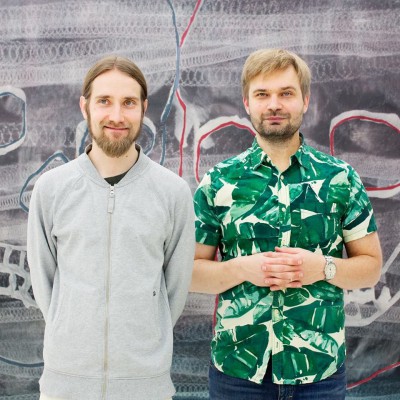 Mikko Innanen & Simo Laihonen
sax + trummor
:::::::::::::::::::::::::::::::::::::::::::::::::::::::::::
Oker is an acoustic improvising quartet based in Oslo. The music combines sounds from extended instrumental techniques with open tonalities and deconstructed grooves. Rich textures in gradual change, but also responsive and spontaneous. The ensemble balances between airy gestures and dense collective blocks of sound.
Homepage: www.okerband.com
Music: https://soundcloud.com/okerband
Video: https://www.youtube.com/watch?v=_XOWNlHVdWA
:::::::::::::::::::::::::::::::::::::::::::::::::::::
Mikko Innanen of Mikko Innanen & Innkvisitio, Mikko Innanen with William Parker & Andrew Cyrille, Kalle Kalima K-18, and Simo Laihonen of Black Motor (also feat. Peter Brötzmann, Juhani Aaltonen, Raoul Björkenheim ao.), Jorma Tapio & Kaski, Sound & Fury, have collaborated together in numerous temporary formations. Now they have found their way to a stable duo situation which utilizes various wind and percussion instruments with common sensitivity. Their concerts are all improvised and unplanned. Duo's first output on record was released on Eclipse Music label in November 2016. This double disc features both studio and live recordings and is titled "April Fools".
Mikko Innanen: saxophones and wind instruments
Simo Laihonen: drums and percussion
Some recent live material:
https://www.youtube.com/watch?v=mx-QyfyAI3k&t=14s
https://www.facebook.com/mikkoinnanensimolaihonen/
::::::::::::::::::::::::::::::::::::::::
Inträde: 100 kr swisch eller cash
Öppnar: 20.00
Konsertstart: 20.30
Music lover records säljer grymma plattor
http://www.facebook.com/musicloversgbg
Vårprogrammet:
http://brotznow.se/#home
Tillgänglighet:
http://www.t-d.se/sv/TD2/Avtal/Goteborgs-stad/Konstepidemin/Konstepidemin-Attan/
Väl mött!
www.brotznow.se
https://www.facebook.com/BrÖtz-305847972764528