18-19/8 GET DOWN TO EARTH
BrÖtz ordinarie program har nu sommaruppehåll…
men:
BrÖtz / Mozg presenterar frijazzfestivalen
"Get Down To Earth"
Festivalen som har ett miljötema äger rum i Göteborg på Konstepidemin paviljong 8
(Där BrÖtz alltid är) 18-19 augusti och i Polen 6-7 oktober.
Med internationellt kända improvisationmusiker från Sverige/Polen.
Ett möte och ett samarbete mellan Frijazzscenerna
MOZG i Bydgoszcz, Polen och BrÖtz i Göteborg.
Kultur i Väst är samarbetspartner och Musikverket har givit bidrag.
Vid två tillfällen kommer festivalen dessutom att göra sig hörd under den då pågående något större festivalen Kulturkalaset.

Frijazz / impro en högst levande men eftersatt konstform som bygger på spontanitet och ett interaktivt möte med publiken. Öppna öronen slappna av och följ med på resan!
Polish Crew:

Mikolaj Zielinski
Artur Mackowiak
Lukasz Jedrzejczak
Slawek Janicki
Qba Janicki
Jerzy Mazzoll

Swedish Crew:
Nina de Heney
Yasuhito Mori
Lindha Kallerdahl
Karin Johansson
John Holmström
Henrik Wartel
Jonny Wartel
PRELIMINÄRT PROGRAM
spontana förändringar kan förekomma!
Fredag 18/8 KL.20.00
20.30 Jonny Wartel 4tet
21.15 Mazzoll solo
22.00 Maćkowaik/Janicki(jr)/Zieliński
22.45 Mazoll/Janicki
23.30 MOZG ARHYTHMIC COMPANY
24.15- Ad hoc constellations Poland/Sweden
Lördag 19/8 KL.20.00
20.30 Mazzoll/Janicki/Janicki
21.15 Nina de Heney solo
22.00 Zieliński/Twix/Janicki (jr)
22.45 John Holmström / Linda Kallerdahl
23.30 Mako/Mazzoll
24.15- Ad hoc constellations Poland/Sweden
Mikołaj Zieliński – multi-instrumentalist, known from such bands as Alameda 3, Alameda 5, T'ien Lai or Tri-city trio called RARA. Member of Milieu L'Acéphale collective, for many years bond to artistic society oscillating around Mózg club in Bydgoszcz. He is specialized in guitars (acoustic, electric, bass and baritone) and percussions such as congas, African drums, gongs, rattles or various metal objects, as well as small synthesizers. He played many club shows with lots of various musicians but also he performed at festivals around the world, for example: Luminato – Toronto; Phono – Odense; Rokolectiv – Bucharest; CTM – Berlin; Unsound – Cracow. Currently he works on preparing music for theatrical purposes, he plays partially improvised solo concerts, works on new album of dynamic quartet called Berlusconi as well as on his solo singer-songwriting-like album under the alias of Anton AZ. A premiere of another album with his participation called "The Luminous Guitar Craft of Alameda Duo" is scheduled for Spring of 2017.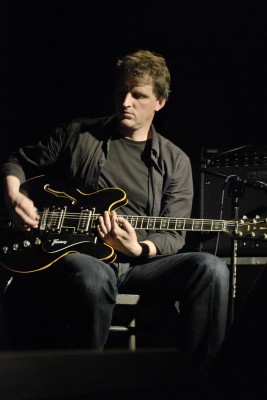 Artur Maćkowiak (Bydgoszcz) is a musician and a performer. He plays solo and in Innercity Ensemble, as well as in various ephemeral musical projects. He used to be a member of Something Like Elvis and Potty Umbrella. He creates music in the wide field of guitar music seasoned with a big dose of experiment, electronics, ambient and improvisation, however, with quite characteristic Slavic melodic.
Łukasz Jędrzejczak is a sound artist, instrumentalist, vocalist, performer, improviser and member of Bydgoszcz based Millieu L'Acephale collective. He is and was a member of such bands as T'ien Lai, Alameda 5, Duży Jack, So Slow, Tin Pan Alley and Sora! He plays electronic instruments: synthesisers, pedal effects, samplers and other devices
Born in 1985 in Bydgoszcz, Poland, Jędrzejczak took part in the realease of several studio albums with alternative and avantgarde music. He regularly performs at numerous festivals around the globe (CTM in Berlin, Unsound in Cracow, Rokolectiv in Bukarest or Luminato in Toronto), and has given dozens of live performances in Poland.
Slawek Janicki is a double bass player, a documentary film-maker, tv producer and a cofounder of Mózg club in Bydgoszcz. As a musician he started his activity in the 80's in the band Henryk Brodaty. He co-created bands: Trytony, Arhythmic Perfection, Pieces of Brain and Arhythmic Brain. He is a very active musician, film-maker and visual artist in Europe and Australia, where he spent about 7 years of the previous decade. As a double bass player he uses unconventional playing techniques. He is entirely devoted to improvised and intuitive music.
QBA JANICKI since he was little, he has been associated with the artistic environment of Mózg club in Bydgoszcz. He graduated from the Music Academy in Cracow in the percussion class of Łukasz Żyta. As a stage musician he played hundreds of concerts and performed with artists such as: Jerzy Mazzoll, Sławek Janicki, Kris Wanders, Roscoe Mitchell, Steve Buchanan, Jacek Sienkiewicz, Bartłomiej
Chmara, Risa Takita, Stefan Węgłowski, Tomasz Sroczyński and many symphony orchestras and chamber ensembles. At the moment, he plays in Wojtek Mazolewski Quintet, Mazzoll/Janicki/Janicki, Bambuko, Hania Piosik/Qba Janicki, Kondensator Przepływu. Apart from being a musician he is also a producer, who creates music for theatrical plays and radio plays for theatres Stary, Powszechny and Polski. He produced music for a documentary depicting the character of Daniel Wallace for the Australian public broadcaster ABC. He made his mark on the hip hop stage with the production of the album Hore by legendary rapper Vienio. In addition, together with his father, he co- runs Mózg club in Bydgoszcz and Warsaw. Being a co-founder of Mózg Foundation and a member Mózg Artistic Association he co-organizes dozens of artistic events every year as well as flagship projects Mózg Festival and Letnie Pranie Mózgu.
JERZY MAZZOLL is known as one of the most interesting clarinettists in Poland. Playing, he combines elements of classical and contemporary music. He created his own unique playing techniques. He performed with many renowned artists, such as: Django Bates, Alfred Harth, Jeffrey Morgan, Vytautas Labutis, Niels Landgren, Roscoe Mitchell. He created music for avant-garde films and installations (Bolero, Point City, Midnight Shakespeare), which were made in Poland, Netherlands and Germany. He also made music for a film directed by J. Maruszewski "jutro będzie niebo as well as a documentary "Słowa jak ściany". Together with R. Knuth he created a scenic form called diffusion as part of Diffusion Ensemble project, where he participated in shows alongside artists such as Harald Naegeli, Jenny Holzer or Felix Droese.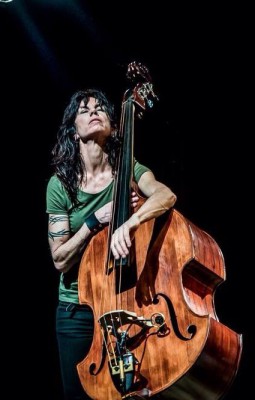 Nina de Heney Born in 1962, Nina grew up in Switzerland. She studied with Miroslav Vitous at the New England Conservatory of Music in Boston from 1981 to 1983. Nina moved to Sweden in 1983, where she again studied from 1988 to 1993 at the Göteborg Conservatory of Music, where she also achieved a Soloist Diploma 2004 to 2006.
She started doing solo performances in 1992, often working with dancers and in 2008 she founded the festival Dance 'n' Bass alongside dancer and choreographer Anna Westberg. Her three solo albums Archipelago, 2 and Three have all been met with critical acclaim and she has, on several occasions, been nominated for the Swedish Jazz Celebration and received the 2012 Jazz Musician of the Year Award. In addition to this she has been awarded funds from the Swedish Arts Grant on several occasions. Nina has been working in the jazz and improvisation scene in Sweden for many years with a number of groups and is currently working with Lisa Ullén and Acoustic Electronics.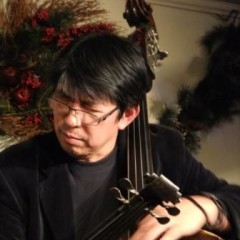 Yasuhito Mori Born 1952 in Tokyo, Japan, started to play in major jazz clubs in Tokyo while attending Aoyama Gakuin University and after graduating, he played together with Masayuki Takayanagi and many other artists. In 1981 he moved to Sweden and has worked with Swedish jazz musicians in many different constellations, such as Putte Wickman, Bengt Hallberg as well as guests George Coleman, Lee Konitz, Bob Berg, Bob Mintzer, Maria Schneider, Ken Peplowski, Art Farmer, Karin Krog, Clark Terry, Georgie Fame etc. Has was part of tenor saxophonist Stan Getz' Quartet with Kenny Barron and Ben Riley during their European tour in the summer of 1989. In 1994 Mori started a concert series called "Scandinavian Japan Connection" and has made many tours both in Japan and Sweden together with several Swedish and Japanese musicians. Today Mori performs with Bohuslän Big Band, Winduo, Anders Persson Trio, Ewan Svensson Trio, Peter AlmcIvist Trio, Ulf Wakenius Quartet, Lars Jansson Group, Claes Crona Trio, Toots Thielemans Scandinavian Quartet and others.
Lindha Kallerdahl is considered one of the most important and groundbreaking singers on the Swedish jazz and improvisation scene. Lindha's special sound and way of singing has always attracted students. She has worked as song-coach both technically and, more importantly, spiritually on music schools and conservatories since 2001. Early on she came in touch with the free music field and made successful collaborations with the likes of Sonic Youth, Ikue Mori, Mats Gustavsson, Nina de Heney, Lise-Lotte Norelius, Mattias Windemo and Fredrik Ljungkvist among others. In 2001 Lindha was awarded the prestigious "Jazz in Sweden-prize". Current working groups include Okkuyng Lee and Lindha Kallerdahl duo, GOLD with Fabian Kallerdahl, Katrine Amsler, Thomas Gunillasson and Samuel Hällkvist, a duo with Ikue Mori and projects with Christoper Studier as well as many more.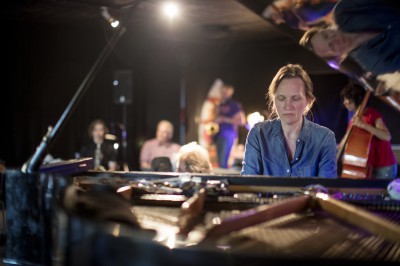 Karin Johansson
Pianist and composer in improvised, experimental music and jazz.
Working with alternative techniques, using preparations and objects.
Active in several groups and collaborations, among others; Jonny Wartel 4, Ord,
Finn Loxbo/Karin Johansson duo, Lisen Rylander Löve/Karin Johansson duo.
Composer of music for theatre and contemporary dance.
John Holmström is a Swedish pianist who works in a broad spectra of improvised music. With one foot in more traditional jazz and the other in free improvised music he tries to create something in between, inside and above everything. Not because it´s a search for new unexplored territory within improvised music, but just because he can't help not to.
As a student of classical music he tries to expand and include the works and language of the old masters in his music but approaches music from his roots as an MC within hip-hop and that of an marital arts fighter.
John has travelled the world playing his music and is known for his work within bands like Dark Horse, Om Tat Sat and Hurrakel.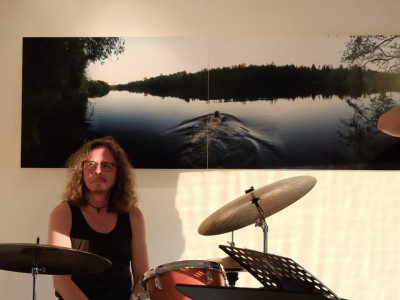 Henrik Wartel Born -57 Henrik became a member of the world famous trombonist Eje Thelins quartet when he was only twenty years old. They toured Europe frequently for several years and Henrik became a well known and popular drummer among all kinds of musicians. He played Rock N Roll with Finish Jucka Tullonen, hardcore jazz with Bernt Rosengren, accompanied famous stars as Monika Zetterlund, Tomaz Stanko, Nisse Landgren, among many others. In Free jazz style he played with Roland Keijser and free impro with Position Alpha.In short: he plays with everyone everywhere.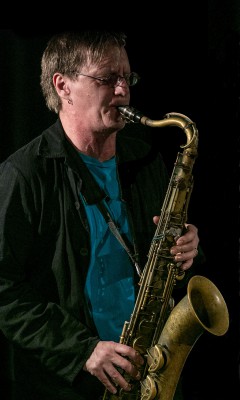 Jonny Wartel saxophones and reeds. Born -59
and obviously much younger than his brother. Toured Europe with saxophone quartet Position Alpha in the eighties. Toured in India and Europe with Indian Baul musicians in the eighties and nineties. Free lance in different styles of music: free jazz, impro, folk music, world music, rock n roll etc. Started Brötz together with Lolo Andersson 1993.
Jonny Wartel 4tet
performs within the infinite universe of free jazz-a never ending journey
The members of the group have experience in many of the different jazz styles and enjoy playing together in a truly improvised sphere where nothing is predictable and everything seems possible
Kallerdahl/Holmström
This duo is made up of two prominent musicians with their roots on the westcoast of Sweden. Strange, beautiful, horribly violent, peacekeeping music infused by spirits and the times in which we live in.
::::::::::::::::::
Inträde: 100kr en kväll – 150 kr två kvällar
swisch eller cash
Öppnar: 20.00
Music lover records säljer grymma plattor
http://www.facebook.com/musicloversgbg
Tillgänglighet:
http://www.t-d.se/sv/TD2/Avtal/Goteborgs-stad/Konstepidemin/Konstepidemin-Attan/