Denna veckas tema är fusioner.
Indisk raga och atmosfärisk pop blandas ihop med, och vänder ut och in på jazzen.
::::::::::::::::::::::::::::::::::::::
Moksha
Oddrun Lilja Jonsdottir – gitarr
Sanskriti Shrestha – tabla, röst
Tore Flatjord – darbuka, slagverk
This trio, featuring guitarist Oddrun Lilja Jonsdottir, percussionist and vocalist Sanskriti Shrestha, and percussionist Tore Flatjord, produces a distinctly unique blend of jazz, Indian Raga, atmospheric improvisation, complex rhythms, textured expressionism, and spacious sonic architecture.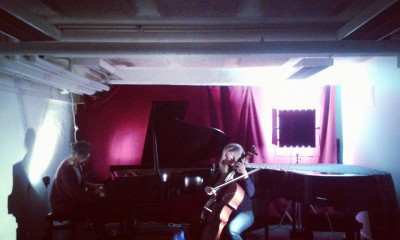 Emma Augustsson/Isabell Gustafsson-Ny
Emma Augustsson – cello
Isabell Gustafsson-Ny – piano
I simhallar och i mysiga källarlokaler mitt i Stockholm hippaste kvarter har denna duo hörts förut. Nu har tiden kommit för dem att besöka västkustens motsvarighet.
Deras set kommer att innehålla improviserad och nykomponerad musik som rör sig mellan atmosfärisk pop och jazz. Missa inte detta!
::::::::::::::::::::::::::::::::::::::
Music lover records säljer grymma plattor
http://www.facebook.com/musicloversgbg
Inträde: 80kr
Tid: 20.00
Cash is king!
(1a konserten börjar 20.30)
Väl mött!
www.brotznow.se
Vårprogrammet:
http://www.brotznow.se/#post286
:::::::::::::::::::::::::::::::::::::