ONSDAG 9 MARS 2022 KL. 19:00 BrÖtz no. 834 Harald Svenssons Musik from Scratch 3.0 + O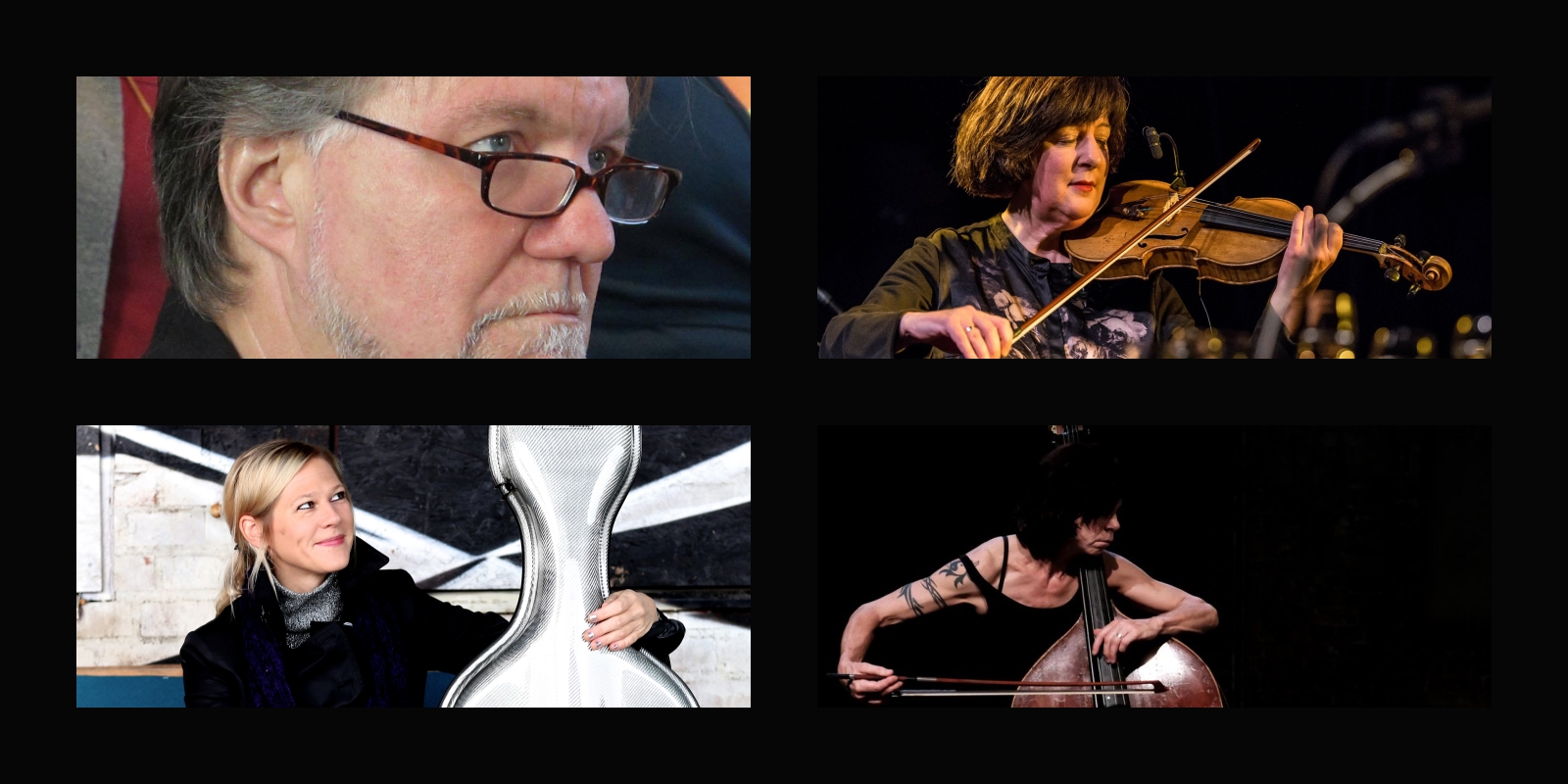 Harald Svenssons Musik from Scratch 3.0
Harald svensson-piano
My Hellgren-cello
Nina de Heney-bas
Eva Lindal-violin
O
Helen Louise Solberg (NO) – acoustic guitar, voice
Inga Margrete Aas (NO) – viola da gamba
Jan Martin Gismervik (NO) – drums
+
Tove Bagge (SE) – baroque viola
.::::::::::::::::::::::::::::::::::::::::::::::::::::.
Harald Svenssons Musik from Scratch 3.0
Musik skapad i stunden.
My Hellgren, cello, är mest aktiv inom den samtida musikscenen och är medlem i Nyfikna kammarspelare, ensemblen Mimitabu och text/ljudtrion MonoMono. Hon även arbetat med andra ensembler som Gageego! och Scenatet och som vikarie i flera symfoniorkestrar som GSO och Göteborgsoperan.
Eva Lindal, violin, var tidigare medlem av Sveriges Radios Symfoniorkester. Sedan dess har hon varit frilansande musiker, med särskilt fokus på improvisation och samtidsmusik, samt barocktiden.
Eva är medlem i Katzen Kapell, Rebaroque och de samtida grupperna MA och KammarensembleN.
Hon uppträder regelbundet i trio med Bill Payne (klarinett) och Carol Liebowitz (piano), i duo med Anna Lindal (fiol), i trion WE med Mattias Windemo (gitarr), Jonny Axelsson (slagverk), i trion Filip Augustson/Viva Black: Filip Auguston (bas), Christopher Cantillo (trummor) samt samarbeten med Connie Crothers (piano), Oskar Schönning, Barriärorkestern Stockholm, Cullbergbaletten, Ensemble Recherche (Freiburg), Bit 20 (Bergen), Sonanza, Karlsson Barock och Drottningholmsteatern.
Nina de Heney, kontrabas, studerade med Miroslav Vitous vid New England Conservatory of Music i Boston från 1981 till 1983. Nina flyttade till Sverige 1983 och började göra soloföreställningar 1992. Hennes tre soloalbum Archipelago, 2 och Three har alla mött lysande kritik och hon har vid flera tillfällen nominerats till Swedish Jazz Celebration och mottagit utmärkelsen Årets Jazzmusiker 2012. Nina har arbetat inom jazz- och improvisationsscenen i Sverige i många år med en rad grupper och arbetar för närvarande i duo med pianisten Lisa Ullén och i trio med Karin Johansson, piano, och Henrik Wartel, trummor.
Harald Svensson, piano, har varit en aktiv medlem av den skandinaviska jazzscenen i snart femtio år och genom åren varit medlem av ett flertal formationer av alla de slag: Jazz, frijazz, fusion, visor, folkmusik m.m.
Han har som kompositör skrivit för såväl jazz som kör och dans.
.:::::::::::::::::::::::::::::::::::::::::::::::::::::::::.
O
The Norwegian acoustic free folk duo O consists of Oslo based musicians Inga Margrete Aas and Helen Louise Solberg. Their music exists in a liminal zone between songs and acoustic free form, and could be described as melted folk, with an unorthodox blend of guitar, the baroque instrument viola da gamba and voice. Collaborating frequently with other musicians, they are excited to be joined by both baroque violist Tove Bagge and drummer Jan Martin Gismervik for a quartet concert at BrÖtz. Os debut album as a trio with Gismervik, Firstness, will be released in May 2022 on dBUT interambience.
Photo: Nina Gaarden / Michela Di Savino / Dawid Laskowski / Juliane Schütz INGA
MARGRETE AAS works in the field of contemporary, classical and experimental music, and plays double bass and viola da gamba. Her projects include the string duo Vilde&Inga (
vildeinga.com
), the classical chamber orchestra Ensemble Allegria (
ensembleallegria.com
), the experimental duo Para and the improvising trio Azkadenya (with Norwegian avantgarde pioneer Sidsel Endresen). Together with colleague Vilde Sandve Alnæs she was awarded The Lindeman Prize for Young Musicians in 2016, an annual award for outstanding achievements by young Norwegian musicians. In addition to extensive touring and teaching both nationally and internationally, she has released albums on the labels ECM, SOFA and LAWO. ______
HELEN LOUISE SOLBERG is a singer working with improvised acoustic music. She also plays acoustic guitar and langeleik, the Norwegian dulcimer. With the free form vocal duo BLY (
blyweb.com
) she has toured both in Norway and internationally, participated in various interdisciplinary collaborations and worked on commissioned pieces with composers, among them Therese Birkelund Ulvo. In 2017 she composed music for the permanent outdoor sound installation by Zambian visual artist Anawana Haloba on the island of Træna, as part of the giant art project Artscape Nordland (
www.skulpturlandskap.no
). She has released music on the Berlin based label Audition Records. ______
JAN MARTIN GISMERVIK is regarded as one of the leading Norwegian drummers of his generation. He has toured extensively in Europe, Russia, Japan and South America with his bands Monkey Plot (
monkeyplot.com
), Torg (
earthlyhabit.no/artist/torg
), Oker (
okerband.com
), Platform and Nåtiden. He mainly works within the field of improvised music, and has collaborated with Norwegian improvised music pioneers such as Frode Gjerstad and Christian Wallumrød. He has released a total of 14 albums on the labels HUBRO, SOFA, Jazzland Recordings and Earthly Habit, among others. The trio Monkey Plot, of which Gismervik is a founding member, was awarded the prize Young Jazz Musician of the Year at the Norwegian Molde Jazz Festival in 2014. Gismervik was awarded the Norwegian Sildajazz Prize in 2020.
______
TOVE BAGGE is a freelance viola and violin player, working within several different projects: Mainly the music collective Damkapellet, the group Senter for Kollektivt Skapande, Crush String Collective (free improvisation) and Ensemble Wirakocha (latin american baroque music). She is also part of the projects Mika Akim (free folk/singer songwriter) and the duo Lovewinged (free improvisation, drone, viola, synths). Tove holds a bachelor's degree from Norges Musikkhøgskole in Oslo. She has recently performed at e.g. Ultima Festival for Contemporary Music, KLANG Festival of Avantgarde Music, Only Connect, Klub Primi, Eter Festival, ALICE, Lupino Live and BrÖtz.
.::::::::::::::::::::::::::::::::::::::::::::::::::::.
INFO:
MESSENGER UTSKICK….och maillista:
Vi har startat en Messengergrupp som heter
BrÖtz This Week för att kunna skicka inbjudningar/påminnelser på ett smidigt sätt.
Hör av dig digitalt till info (at) brotznow.se så addar vi…
Vill du också/hellre vara med på en mailutskickslista så skriv till henrik (at) Wartel.se
FFFFKFB
Det finns numera också en FFFFK grupp på Facebook: FFFFKFB – Forum För Främjandet av den Fria Kulturen på FaceBook. Vi föreslår att fria kulturarbetare kommer fram till ett manifest ett, manuskript, en skrivelse, en text som innehåller ett förslag hur pengar för den fria kulturen ska hanteras. Tanken är att via denna grupp gör en gemensam formulering.
Gå gärna med i denna grupp!
:::::::::::::::::::::::::::
Brötz Inträde: 100 kr swisch eller cash
Öppnar: 19.00
Konsertstart: 19.30
Music lover records säljer grymma plattor
http://www.facebook.com/musicloversgProgrammet
:
http://brotznow.se/#home
Tillgänglighet:
http://www.t-d.se/…/Konstepidemin/Konstepidemin-Attan/
Väl mött!
www.brotznow.se
https://www.facebook.com/BrÖtz-305847972764528