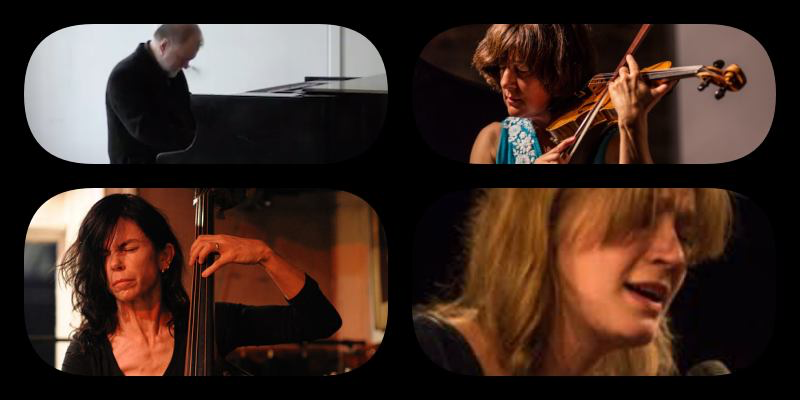 BrÖtz no.797, 4/3 A Forest + Music from Scratch 2.0
OBS! Read This!
För att se menyn med info, program, filmer osv måste du välja Desktop Version på mobil och surfplatta!
Cellphone and tablet users: You have to check Desktop Version to be able to see menu with info, program, film clips and more.
!!!!!!!!!!!!!!!!!!!!!!!!!!!!!!!!!!!!!!!!!!!!!!!!!!!!!!!!!!!!!!!!!!!!!!!!!!!!!!!!!!!!!!!!!!
For full view: Menu etc. please follow instructions!
SCROLL DOWN ! Check desktop version at the bottom!
!!!!!!!!!!!!!!!!!!!!!!!!!!!!!!!!!!!!!!!!!!!!!!!!!!!!!!!!!!!!!!!!!!!!!!!!!!!!!!!!!!!!!!!!
Music from Scratch 2.0
Harald Svensson – piano
Nina De Heney – bas
Eva Lindal – violin
Isabel Sörling – röst
A FOREST
Johan Björklund – trummor
Lindha Kallerdahl – röst
Thomas Gunillasson – barytonelgitarr
::::::::::::::::::::::::::::::::::::::
Music from Scratch 2.0
Life in musical abstratractions
Harald Svensson – piano
Nina De Heney – bas
Eva Lindal – violin
Isabel Sörling – röst
Harald Svensson svensk pianist och kompositör. Eje Thelin , Egba, Resa, Entra, Priming Orchestra, Peps etc. Från 2012 och framåt har Harald Svenssons musik i huvudsak präglats av ett friare improvisatoriskt tonspråk med det akustiska pianot som verktyg i mindre ensembler och som solist.
Kontrabasisten Nina de Heney har profilerat sig som en stark och personlig röst på improvisationsscenen, både som solist och i sina samarbeten. Hennes solouppträdande lämnar ingen oberörd : akustiskt elektricitet på 4 strängar.
Eva Lindal är främst verksam i Stockholm som improvisations, nutida och barockmusiker med långa samarbeten i grupper som trion VivaBlack/Filip Augustson, New Yorkbaserade trion Payne/Lindal/Liebowitz,Katzen Kapell , duo med violinisten Anna Lindal,WE (Windemo Ensemble) samt Barriärorkestern.
Isabel Sörling based in Paris, is a vocal improviser, composer and musician, born in Ulricehamn in Sweden 1987.She's an artist who freely navigates the boundaries between improvisation, folk, and avant-garde, blending vulnerability with mastery. In March 2020 she'll release her third studio album "MARELD".
:::::::::::::::::::::::::::::::::::::::::::::::::::::::
A FOREST
A Forest är inga nykomlingar. Bandets medlemmar har långa karriärer bakom sig både
som soloartister och musiker i etablerade akter på den svenska och internationella musikscenen.
Medlemmarna har hörts med bl.a Thymeshift, Sonic Youth, Militanta Jazzmusiker och många andra grupper.
I maj 2018 äntrade bandet Studio Eternal Darkness där de spelade in egna versioner av sina nya och gamla favoritlåtar,
helt oberoende av genrer och stilar.
Med sitt egna, råa sound och ett helt fritt förhållningssätt så stakar A Forest ut en helt ny standard för hur musik av andra (covers) kan låta och kännas som sin helt egen.
A Forest har med stor framgång spelat för många 100-tals barn i sina vilda och viktiga skolkonserter.
Nu tar bandet ett steg till och gör vuxenlivepremiär! Missa inte detta!
………………………………………………………………………..
INFO:
MESSENGER UTSKICK….och maillista:
Vi har startat en Messengergrupp som heter
BrÖtz This Week för att kunna skicka inbjudningar/påminnelser på ett smidigt sätt.
Hör av dig digitalt till info (at) brotznow.se så addar vi…
Vill du också/hellre vara med på en mailutskickslista så skriv till henrik (at) Wartel.se
FFFFKFB
Det finns numera också en FFFFK grupp på Facebook: FFFFKFB – Forum För Främjandet av den Fria Kulturen på FaceBook. Vi föreslår att fria kulturarbetare kommer fram till ett manifest ett, manuskript, en skrivelse, en text som innehåller ett förslag hur pengar för den fria kulturen ska hanteras. Tanken är att via denna grupp gör en gemensam formulering.
Gå gärna med i denna grupp!
:::::::::::::::::::::::::::
Brötz Inträde: 100 kr swisch eller cash
Öppnar: 20.00
Konsertstart: 20.30
Music lover records säljer grymma plattor
http://www.facebook.com/musicloversgbg
Vårprogrammet:
http://brotznow.se/#home
Tillgänglighet:
http://www.t-d.se/sv/TD2/Avtal/Goteborgs-stad/Konstepidemin/Konstepidemin-Attan/
Väl mött!
www.brotznow.se
https://www.facebook.com/BrÖtz-305847972764528