27/11 BrÖtz no.788 Mikoo + Tristan Honsinger Trio
!!!!!!!!!!!!!!!!!!!!!!!!!!!!!!!!!!!!!!!!!!!!!!!!!!!!!!!!!!!!!!!!!!!!!!!!!!!!!!!!!!!!!!!!!!
For full view: Menu etc. PLEASE SCROLL DOWN !
Check desktop version at the bottom!
!!!!!!!!!!!!!!!!!!!!!!!!!!!!!!!!!!!!!!!!!!!!!!!!!!!!!!!!!!!!!!!!!!!!!!!!!!!!!!!!!!!!!!!!
Mikoo
Michaela Antalová – drums, composition
Vojtech Prochazka – piano/synth
Fredrik Rasten – guitar
Ina Sagstuen – voice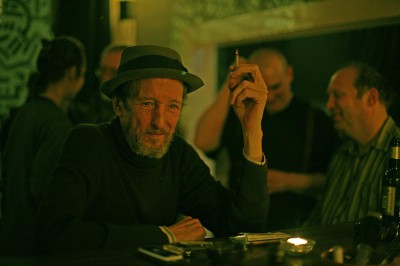 Tristan Honsinger Trio
Andreas Røysum – klarinett
Tristan Honsinger – cello
Anton Jonsson – trummor
::::::::::::::::::::::::::::::::::::::::::::::::
Mikoo
is an ensemble working with contemporary and improvised music where experiments with blending sound collages and songs with lyrics, influenced by minimal music and acoustic nuances of intonation, timbre and consonance. Composed material brings a common direction of certain expression, melody or harmony where musicians can behave as improvisers within the compositions.
Vojtěch Procházka
is a piano player, composer and improviser from Prague, Czech Republic. He received his master's degree in jazz and improvised music in 2012 at Norwegian Academy of Music in Oslo, Norway. He also studied composition, jazz piano and North Indian Classical Music in Paris and Prague. Since 2002 Vojtěch is active in Prague-based original jazz band Vertigo(Czech Jazz Grammy 2005 and 2011). His other focus is Indian music, on which he collaborates with Norwegian-Indian violin player Harpreet Bansal in Bansal Trio and Bansal Band. Vojtěch also composes film music and improvises for silent movies. Last but not least Vojtěch is an active improviser and works mainly in duo with multi-instrumentalist Georgy Bagdasarov or singer Agnes Hvizdalek. Vojtěch is also a member of bands Krekso, FSKC Drancy and PIO (Prague Improvisation Orchestra)
Fredrik Rasten
on guitar is from Norway. His main focus is exploring and utilising the acoustic possibilities of the steel string guitar, working extensively with intonation and an extended concept of consonance. He playes in duo Píp with Torstein Lavik Larsen, quartets Oker, Fennel and in a project with Isak Hedtjärn, Torstein Lavik Larsen and Magda Mayas. Fredrik Rasten has released albums with Oker on Sofa music and with Johan Lindvall on EDITION WANDELWEISER RECORDS, Píp on Creative Sources and more…
Ina Sagstuen
on voice comes from Norway. She studied Jazz/Improvised music performance at the Norwegian Academy of Music in Oslo. After graduating in 2015 she works as a freelance musician with duos Propan with Natali Garner, Girl with Chriastian Winther, Johan Lindvall´s band Torg and Susanna Wallumrød´s Susanna & the Brotherhood of Our Lady. Ina Sagstuen has released albums with Listen to Girl on SusannaSonata, Propan on Va Fonogool Record Label, Skadedyr on Hubro, Johan Lindvall on EDITION WANDELWEISER RECORDS, with Torg on Jazzland Recordings and more…
Michaela Antalová
is a Slovak composer and drummer living in Oslo who leads her own ensemble Mikoo. Michaela is occupied by exploring improvisation in many settings, discovering the possibilities of percussive instruments and composing for both small and large groups. She has worked with musicians such as Lę Quan Ninh in pQuartet, with Martin Küchen in their duo, with Sudeshna Bhattacharya and Hans Kjorstad in Indian-Norwegian trio Folkevogn, by being part of Prague Improvising Orchestra she has recorded with Xavier Charles, Mazen Kerbaj. She is sharing a trio with Atle Nymo and Mats Eilertsen and other projects including bands on Improvised music scene such as Fennel, Arará or Brinicle and World music scene such as Arabic group Majãz. She is a member of OJKOS, 16 piece orchester of composers based in Oslo. Together with Chris Corsano, Anja Jacobsen and Øyvind Skarbø made a new piece for four drumkits DRUMS commissioned by Borealis Festival. Michaela released a solo album called Oblak, Oblek, Oblúk on a Czech label Jipangu
::::::::::::::::::::::::::::::::::::::::::::::::::::::::::::::::::::::::::::::::::::::::::::::
Tristan Honsinger Trio
Andreas Røysum – klarinett
Tristan Honsinger – cello
Anton Jonsson – trummor
Tristan Honsinger är ett unikum inom improvisationsmusik. Han var med och formade musiken i England med musiker som Derek Bailey och Evan Parker, i Nederländerna med Han Bennink och Misha Mengelberg, och var under lång tid fast medlem i Cecil Taylors band. Honsinger har från tidigt 70-tal jobbat med att kombinera musik och teater på enestående vis, och är fortfarande en kreativ superkraft. Nu när han ska på turné med ny trio har han med sig den norska klarinettisten Andreas Røysum och den svenske trumslagaren Anton Jonsson
:::::::::::::::::::::::::::::::::::::::::::::::::::::::::::::::::
INFO:
MESSENGER UTSKICK….och maillista:
Vi har startat en Messengergrupp som heter
BrÖtz This Week för att kunna skicka inbjudningar/påminnelser på ett smidigt sätt.
Hör av dig digitalt till info (at) brotznow.se så addar vi…
Vill du också/hellre vara med på en mailutskickslista så skriv till henrik (at) Wartel.se
FFFFKFB
Det finns numera också en FFFFK grupp på Facebook: FFFFKFB – Forum För Främjandet av den Fria Kulturen på FaceBook. Vi föreslår att fria kulturarbetare kommer fram till ett manifest ett, manuskript, en skrivelse, en text som innehåller ett förslag hur pengar för den fria kulturen ska hanteras. Tanken är att via denna grupp gör en gemensam formulering.
Gå gärna med i denna grupp!
:::::::::::::::::::::::::::
Brötz Inträde: 100 kr swisch eller cash
Öppnar: 20.00
Konsertstart: 20.30
Music lover records säljer grymma plattor
http://www.facebook.com/musicloversgbg
Vårprogrammet:
http://brotznow.se/#home
Tillgänglighet:
http://www.t-d.se/sv/TD2/Avtal/Goteborgs-stad/Konstepidemin/Konstepidemin-Attan/
Väl mött!
www.brotznow.se
https://www.facebook.com/BrÖtz-305847972764528