9/10 BrÖtz no.783 NAOS + JOHAN ARRIAS
OBS! Read This!
För att se menyn med info, program, filmer osv måste du välja Desktop Version på mobil och surfplatta!
Cellphone and tablet users: You have to check Desktop Version to be able to see the menue with info, program, film clips etc.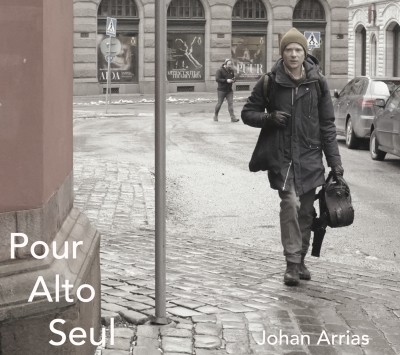 JOHAN ARRIAS SOLO
saxofon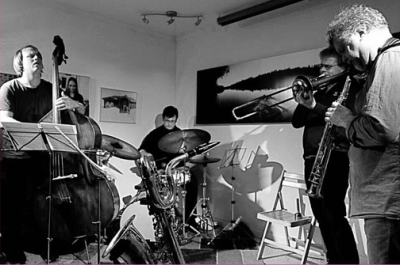 NAOS
Lars Larsson – saxar
Niclas Rydh – trombon
Alfred Lorinius – bas
Edward Olsson – trummor
::::::::::::::::::::::::::::::::::::::::::::::::::::::::
Naos
Improviserad musik med vissa inslag av skrivet material, men för det mesta musik komponerad i stunden
::::::::::::::::::::::::::::::::::::::::::::::::::::::::::::::::::::::::::
Johan Arriasis a saxophone and clarinet player active in the field of improvised, experimental and contemporary music. He works with deconstructing and fragmenting the traditional ways of playing his instrument with extended techniques and preparation, regarding sound as an autonomous matter. When composing music he moves freely from traditional to graphic notation and concepts. He organizes concerts within the series KROCH and runs the label Ausculto Fonogram. He is also a member of Fylkingen and former member of the board of FRIM. Occasionally he plays in alternative pop settings, mainly within projects of Sing a Song Fighter.
From 2005 he is based in Stockholm and collaborates with musicians such as Tisha Mukarji, Angharad Davies, Tetuzi Akiyama, Axel Dörner, Derek Shirley, Kai Fagaschinski, Lucio Capece, Audrey Chen, Anna Lindal, David Stackenäs, Christer Bothén, Nina de Heney, Jonatan Liljedahl, Lisa Ullén, Henrik Olsson, Emil Strandberg and more. He has toured Sweden, Norway, South Africa, USA, Poland, UK, Germany, Romania and released records on labels such as MonotypeRec, Headspin Recordings, Crazy Wisdom, Jahr null Aufnahmen and his own ausculto fonogram. He holds an MFA in music received in 2001 at The Academy of Music and Drama, University of Gothenburg.
Ruins become the unconscious of a city, its memory, unknown, darkness, lost lands, and in this truly bring it to life. With ruins a city springs free of its plans into something as intricate as life, something that can be explored but perhaps not mapped.
– Rebecca Solnit,A Field Guide to Getting Lost …
Johan Arrias –Pour Alto Seul – ausculto fonogram, 2019
Pour Alto Seul är Arrias första soloarbete. Det kom till som resultat av en arbetsperiod i början av 2018 och gör inte anspråk på att ge en heltäckande bild av artisten, utan utgörs av ett utforskande utifrån mer specifika förtecken. I 8 spår med starka musikaliska identiteter utforskar Arrias saxofonen som ensam röst och ljudkälla, och även i viss mån sin egen identitet. Inspelningarna ger en känsla av att befinna sig ensam bland ruiner; en ödelagd miljö, en kal men löftesrik och spännande plats full av minnen, mörker, oklarheter och möjligheter. Om ansatsen till arbetet kom ur intresset för saxofonen i sig själv, resonans, ljud, musikalisk identitet och uttryck, så visade sig urvalsprocessen och efterbearbetningen komma att handla mer om Arrias personliga identitet och funderingar kring en brokig bakgrund vilken utgörs av en farfar från Surinam som flydde andra världskrigets Europa och kom att förenas med farmodern från Pajala, i Jönköping.
Pour Alto Seul släpps den 9 oktober 2019
Lyssna på två spår:https://soundcloud.com/johan_arrias/sets/solo-saxophone/s-r4BvLausculto fonogram:https://auscultofonogram.bandcamp.com/
::::::::::::::::::::::::::::::::::::::::::::::::::::::::::::::::::::::::::::
INFO:
MESSENGER UTSKICK….och maillista:
Vi har startat en Messengergrupp som heter
BrÖtz This Week för att kunna skicka inbjudningar/påminnelser på ett smidigt sätt.
Hör av dig digitalt till info (at) brotznow.se så addar vi…
Vill du också/hellre vara med på en mailutskickslista så skriv till henrik (at) Wartel.se
FFFFKFB
Det finns numera också en FFFFK grupp på Facebook: FFFFKFB – Forum För Främjandet av den Fria Kulturen på FaceBook. Vi föreslår att fria kulturarbetare kommer fram till ett manifest ett, manuskript, en skrivelse, en text som innehåller ett förslag hur pengar för den fria kulturen ska hanteras. Tanken är att via denna grupp gör en gemensam formulering.
Gå gärna med i denna grupp!
:::::::::::::::::::::::::::
Brötz Inträde: 100 kr swisch eller cash
Öppnar: 20.00
Konsertstart: 20.30
Music lover records säljer grymma plattor
http://www.facebook.com/musicloversgbg
Vårprogrammet:
http://brotznow.se/#home
Tillgänglighet:
http://www.t-d.se/sv/TD2/Avtal/Goteborgs-stad/Konstepidemin/Konstepidemin-Attan/
Väl mött!
www.brotznow.se
https://www.facebook.com/BrÖtz-305847972764528