13/2 BrÖtz no. 763 Heaven + Glitterfittan
OBS! Read This!
För att se menyn med info, program, filmer osv måste du välja Desktop Version på mobil och surfplatta!
Cellphone and tablet users: You have to check Desktop Version to be able to see the menue with info, program, film clips etc.
:::::::::::::::::::::::::::::::::::::::::::::::::::::::::::::::::::::::::::::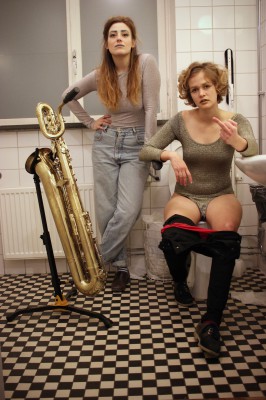 Glitterfittan
Hilda Ekstedt-baryton sax
Agnes Åhlund – cittra, sång
Heaven feat. Nate Wooley
Henrik Pultz Mekbye -sax
Ole Mofjell-tr
feat. Nate Wooley- trp
OCH: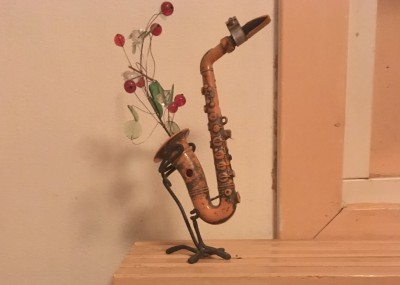 14/2 FFFFK-Forum För Främjandet av den Fria Kulturen + Jam no. 28
:::::::::::::::::::::::::::::::::::::::::.
Glitterfittan
Med barytonsax, cittra och sång skapar Glitterfittan musik som osar av feminism och frustration över samtiden. Med inspiration hämtad från både folkmusiken och jazzen såväl som vardagens motgångar blir det en konsert som är naken, ärlig och fruktansvärt intressant.
::::::::::::::::::::::::::::::::::::::::::::::::::::::
Heaven feat. Nate Wooley (DK/NO/US)
The drum and sax duo, Heaven, is the collaborative project of Danish saxophonist Henrik Pultz Melbye and Norwegian drummer Ole Mofjell.Heaven's fast, highly energetic performances, combine influence from old and new-school free jazz, as the foundation for their innovative sound. Inspired by European improvisation, 60's New York-loft-avant-garde and Ethiopian jazz, Heaven fearlessly ventures between rhythmic and melodic realms, to stretches of noise and non-idiomatic sounds.
On September 21st the duo released their debut album "IAPOE" on Clean Feed Records.
February 2019 the duo will go on a scandinavian tour featuring the extremely talented trumpetplayer, Nate Wooley.
Nate has become one of the most in-demand trumpet players in the burgeoning Brooklyn jazz, improv, noise, and new music scenes. He has performed regularly with such icons as John Zorn, Anthony Braxton, Eliane Radigue, Ken Vandermark, Fred Frith, Evan Parker, and Yoshi Wada, as well as being a collaborator with some of the brightest lights of his generation like Chris Corsano, C. Spencer Yeh, Peter Evans, and Mary Halvorson.
Wooley has been gathering international acclaim for his idiosyncratic trumpet language. Time Out New York has called him "an iconoclastic trumpeter", and Downbeat's Jazz Musician of the Year, Dave Douglas has said, "Nate Wooley is one of the most interesting and unusual trumpet players living today, and that is without hyperbole"
Norwegian drummer, Ole Mofjell is known for his fast paced, dynamic playing and has performed with an international roster of musicians including Laura Toxværd, Thurston Moore and Tobias Delius. He is a sought after drummer playing in all kinds of different settings including the successful singer Natalie Sandtorv's band.
Danish saxophonist Henrik Pultz Melbye has toured Europe extensively, with his
avant- garde-rock band SVIN, and with his experimental solo projects. Henrik's approach to his instruments is one of constant exploration, unfolding an agile, curious, and unique sonic language.
Tour
12th Blowout, Oslo 13th Brötz in Göteborg, Sweden 15th Teater Momentum, Odense 16th Danish Vaishyas, Aalborg 17th Atlas, Aarhus 19th Alice, Copenhagen
::::::::::::::::::::::::::::
14/2
FFFFK – Forum För Främjandet av den Fria Kulturen, bjuder åter igen upp till jam och häng. Kom och träffa folk, spåna fram nya projekt, dansa till livemusiken, lyssna och trivs!
Alla är välkomna
Gamla som unga
Erfarna som nybörjare
Alla konstformer.
Du skriver ditt namn på en lapp, lägger i en skål och lottas in i en duo eller trio.
Denna lilla konstellation framför en kort improvisation ihop, sedan dras nya namn.
När skålen är tömd på namn börjar nästa omgång, och vi fortsätter så länge vi orkar.
kl.20 inträde 40. Kr
kommande FFFFK 14/3, 11/4, 16/5
:::::::::::::::::::::::::::::::::::::::::::::::::::::::::::::::
INFO:
MESSENGER UTSKICK….och maillista:
Vi har startat en Messengergrupp som heter
BrÖtz This Week för att kunna skicka inbjudningar/påminnelser på ett smidigt sätt.
Hör av dig digitalt till info (at) brotznow.se så addar vi…
Vill du också/hellre vara med på en mailutskickslista så skriv till henrik (at) Wartel.se
FFFFKFB
Det finns numera också en FFFFK grupp på Facebook: FFFFKFB – Forum För Främjandet av den Fria Kulturen på FaceBook. Vi föreslår att fria kulturarbetare kommer fram till ett manifest ett, manuskript, en skrivelse, en text som innehåller ett förslag hur pengar för den fria kulturen ska hanteras. Tanken är att via denna grupp gör en gemensam formulering.
Gå gärna med i denna grupp!
:::::::::::::::::::::::::::
Brötz Inträde: 100 kr swisch eller cash
Öppnar: 20.00
Konsertstart: 20.30
Music lover records säljer grymma plattor
http://www.facebook.com/musicloversgbg
Vårprogrammet:
http://brotznow.se/#home
Tillgänglighet:
http://www.t-d.se/sv/TD2/Avtal/Goteborgs-stad/Konstepidemin/Konstepidemin-Attan/
Väl mött!
www.brotznow.se
https://www.facebook.com/BrÖtz-305847972764528