19/9 BrÖtz no.744 The Rosehips + Innercity Ensemble
Polen är Polen är Polen …Gertrude Steins texter framförda av, ett något decimerat The Rosehips. Egensinnigt, innerligt och sinnligt delad kväll med ytterligare vänner från Bydgoszcz i Polen.
A Rose is Hip, A Rose is Hip, A Rosehip . (… ja va fan det smittar ju )
inget FFFFK den 20.e heller …men veckan därpå!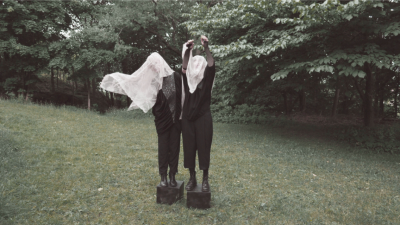 The Rosehips
Michele Collins-röst, performance
Anna Gustavsson-percussin, performance, komposition

Innercity Ensemble
Wojciech Jachna – trumpet, cornet
Jakub Ziołek – guitar, bass, electronics, mini clarinet
Artur Maćkowiak – guitar, synthesizer
Radosław Dziubek – electronics, percussion
Rafał Iwański – granite blocks, darabukkas, percussion
Rafał Kołacki – congas, percussion
Tomasz Popowski – drums
The Rosehips, Michele Collins, Anna Gustavsson gör en undersökning av den amerikanska avantgardistiska författaren, poeten och feministen Gertrude Stein.(1874-1946)

The Rosehips interdisciplinära stil med röstimprovisation, slagverk, elektronik, kontrabas och Steins banbrytande texter, hittar de ledtrådar och paralleller till vår tid. Att belysa och presentera den Amerikanska Avantgarde-kulturen i Sverige och inbjuda till ett internationellt nätverk är att presentera en kultur som vågar ta risker med djupt engagemang i motsats till den konventionella lättsmälta amerikanska kulturen
Gertrude Stein var en tidig förebild inom HBTQ-rörelsen och även en portalfigur inom modernismen och det som sedan kom att utvecklas till postmodernism. Hennes syn på identitet och sexualitet, gör att hon är mycket aktuell idag
Genom att arbeta med att sprida Gertrude Steins texter kan vi förhoppningsvis sprida hennes geniala konstnärskap till en större publik och därmed bidra till att hon kommer att inkluderas bland 1900-talets viktigaste konstnärer
The Rosehips genomfördes (hösten 2016) Steins libretton " Dr. Faustus Lights the Lights" (1938) i en tre rum + kök i en stor bebodd lägenhet i Linnéstaden var mycket lyckat med en varierad publik och mycket intresse för ytterligare tillfällen.
Denna gång presenterar de poesi experimentet "Tender Buttons" publicerad 1914 till scenkonst.
"Tender Buttons" är ett berömt modernistiskt experiment i versform som samtidigt anses vara ett mästerverk i verbal kubism och har kallats en modern succé men också " ett spektakulärt misslyckande" om det mystiska auran kring platser och objekt.
::::::::::::::::::::::::::::::::::::::::::::
INNERCITY ENSEMBLE is a collective started in Bydgoszcz/Poland in 2011. Theirs music is a result of many years of experience and explorations on the fringes of jazz, postrock, electronic and ethnic music. The band records improvised sessions, with most interesting pieces released on their critically-acclaimed albums. The latest album, III, was released in 2016. It was third on the prestigious British website The Quietus' list of 100th best albums of the year.
The group has played at the Jazz Od Nowa Festival (Toruń, 2018), Jazz Jantar Festival (Gdańsk, 2017 & 2013), Inne Brzmienia Festival (Lublin, 2016), OFF Festival (Katowice, 2015), Malta Festival (Poznań, 2015), Incubate Festival (Tilburg/Netherlands, 2014), CoCArt Music Festival (Toruń, 2014), Jazz & Experimental Music from Poland (London, 2013), Unsound Festival (Kraków, 2012) and many other concerts, also in clubs.
The ensemble line-up has been unchanged since the beginning: Radek Dziubek, Rafał Iwański, Wojtek Jachna, Rafał Kołacki, Artur Maćkowiak, Tomek Popowski and Jakub Ziołek.
Discography:
*s/t (on-line, self released)
*Katahdin (CD, Wet Music 2012)
*II (2CD, Instant Classic 2014)
*III (CD/LP, Instant Classic 2016)
*split with Jakub Ziołek (7"ep., Instant Classic 2016)
Profile:
www.facebook.com/innercityensemble
More info:
http://milieulacephale.com/project/22/innercity-ensemble-22/
Music:
www.innercityensemble.bandcamp.com https://youtu.be/Didb1mFwaj8
Awards & Reviews:
http://thequietus.com/articles/16739-albums-of-the-year-2014
http://thequietus.com/articles/21429-albums-of-the-year-2016
http://louderthanwar.com/louder-than-war-incubate-festival-2014-five-top-bands-we-saw
http://www.chaindlk.com/reviews/?id=9638
http://thequietus.com/articles/21081-listen-new-innercity-ensemble-album
http://yearendlists.com/2016/12/sasha-frere-jones-100-favorite-albums-of-2016/
http://passiveaggressive.dk/ingen-graensebomme-arets-120-bedste-udgivelser-ifolge-mikkel-a-kongstad/
Millieu L'Acephale Booking
Artur Maćkowiak
www.facebook.com/milieulacephale
ph. +48 503 626 699
:::::::::::::::::::::::::::::::::::::::::::::::::::::::
Brötz Inträde: 100 kr swisch eller cash
Öppnar: 20.00
Konsertstart: 20.30
Music lover records säljer grymma plattor
http://www.facebook.com/musicloversgbg
Vårprogrammet:
http://brotznow.se/#home
Tillgänglighet:
http://www.t-d.se/sv/TD2/Avtal/Goteborgs-stad/Konstepidemin/Konstepidemin-Attan/
Väl mött!
www.brotznow.se
https://www.facebook.com/BrÖtz-305847972764528