1/11 BrÖtz no.714 Strandberg/Rissanen + Bossa/Kallerdahl
Denna afton blir en afton i duons tecken då två mycket spännande dito tacknämligt besöker vårt lilla men ändå mycket stora etablissemang! Alessandra Bossa är från Neapel men bosatt i Gällivare vilket bara det bäddar för en extraordinär upplevelse. Kom och avnjut två fina konstellationer!
Extremt hög-kvalitativ och inspirerande musik utlovas i en trivsam och avslappnad miljö!
Strandberg/Rissanen
Lyssnar du på mig? Vad hör du? Jag inväntar din reaktion. Vilka låtar vill du spela, förresten? Ska vi försöka tillsammans? 1, 2, 3… (valfri taktart)
Emil Strandberg – trumpet
Aki Rissanen – piano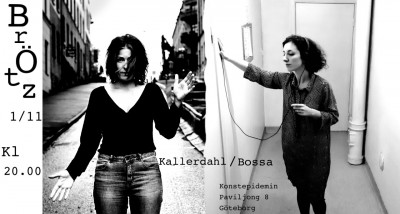 Bossa/Kallerdahl
Alessandra Bossa – pi, electr.
Lindha Kallerdahl – röst
:::::::::::::::::::::::::::::::::::::::::::::::
Emil Strandbergs stil brukar beskrivas som abstrakt men varm och han hörs ofta i grupper som sätter improvisationen främst, t.ex. Emils egen trio (med David Stackenäs & Pär-Ola Landin),kvartetten Wachsmann/Strandberg/Sandell/Thorman och kvintetten Seval

"[Strandberg] can get abstract with the best" – Chicago Reader
Pianist Aki Rissanen has been quickly rising among the few top forces of Finnish jazz and over the last years he has also made a name for himself in the international jazz scene, both as a leader and as a sideman. Although originally classically trained, he has always had a heart for improvised music and jazz.
In addition to his high merits in the Solo Piano Competition at the Montreux Jazz Festival and La Defense competition in France, Rissanen has been best known for his works with saxophonist Dave Liebman on German Ozella Music and trumpeter Verneri Pohjola on British Edition Records and on ACT Music in Germany.
:::::::::::::::::::::::::::::::::::::::::::::::::::::::::::::
Alessandra Bossa
Pianist, keybords player, electronics musician and composer Andra (pseudonym of Alessandra Bossa) unfolds her unique world with experimentetions of improvisation, avant-garde, jazz and electronics
She goes from a preparation as a classical and contemporary pianist to the use of electronics and improvisation and the compositon of different kinds of
ensemble.She
has worked and played in Italy and Sweden and has also collaborated with improvisation collective such as Brotz in Goteborg, GreenBrotz in Turin and Kluster in Piteå. In 2009 she has wrote and arranged pieces of Alberto Evaristo Ginastera for piano and percussions and in 2011 she has composed and conducted a piece for 80 musicians for the opening concert at the Academy of Music and Drama in Goteborg. From her experimentation she use also inside and prepared piano to fuse together electronic and acustic sounds such as in her latest project, called O-Janà (http://o-jana.com) with the singer Ludovica Manzo and the collaboration of the percussionist Michele Rabbia.
Composer and performer 360 degrees she has started her collaboration with the Mammalian Collective in 2014 writing music expressly to their exhibition.
Lindha Kallerdahl is considered one of the most important and groundbreaking singers on the Swedish jazz and improvisation scene. Lindha's special sound and way of singing has always attracted students. She has worked as song-coach both technically and, more importantly, spiritually on music schools and conservatories since 2001. Early on she came in touch with the free music field and made successful collaborations with the likes of Sonic Youth, Ikue Mori, Mats Gustavsson, Nina de Heney, Lise-Lotte Norelius, Mattias Windemo and Fredrik Ljungkvist among others. In 2001 Lindha was awarded the prestigious "Jazz in Sweden-prize". Current working groups include Okkuyng Lee and Lindha Kallerdahl duo, GOLD with Fabian Kallerdahl, Katrine Amsler, Thomas Gunillasson and Samuel Hällkvist, a duo with Ikue Mori and projects with Christoper Studier as well as many more
:::::::::::::::::::::::::::::::::::::::::
Inträde: 80kr swisch eller cash
Öppnar: 20.00
Konsertstart: 20.30
Music lover records säljer grymma plattor
http://www.facebook.com/musicloversgbg
Höstprogrammet:
http://brotznow.se/#home
Tillgänglighet:
http://www.t-d.se/sv/TD2/Avtal/Goteborgs-stad/Konstepidemin/Konstepidemin-Attan/
Väl mött!
www.brotznow.se
https://www.facebook.com/BrÖtz-305847972764528