BrÖtz no. 694 15/3 Williams/Østvang + Casey Moir Solo
Trotsa snöblasket och möt våren på Onsdag kväll när Australien möter USA via Norge i Sverige, i Göteborg, i hus no.8, högst upp i backen på Konstepideminen på
Europas hetaste scen för friimproviserad musik: BrÖtz!!!!
Extremt högkvalitativ och inspirerande musik utlovas i en trivsam och avslappnad miljö!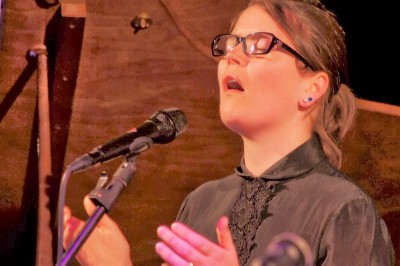 Casey Moir Solo – röst
I am a vocalist who explores the extreme capabilities of the voice and who then combines this exploration with more conventional aspects such as composition and melody in improvisation
MARS WILLIAMS / TOLLEF ØSTVANG:
Tollef Østvang er en trommeslager kjent fra band som Friends & Neighbors, All Included og Universal Indians. Han har i tillegg hatt mye å gjøre med musikere fra Chicago, og nå skal han på turné med Mars Williams; en mangefasettert veteransaksofonist som blant annet har jobbet mye med Ken Vandermark, Jim Baker, Dave Rempis og Paal Nilssen-Love, og i band som Psychedelic Furs og Liquid Soul.
:::::::::::::::::::::::::::::::::
Inträde: 80kr
Öppnar: 20.00
Konsertstart: 20.30
Music lover records säljer grymma plattor
http://www.facebook.com/musicloversgbg
Väl mött!
www.brotznow.se
https://www.facebook.com/Br%C3%96tz-305847972764528/
Vårens program:
http://www.brotznow.se
Tillgänglighet:
http://www.t-d.se/sv/TD2/Avtal/Goteborgs-stad/Konstepidemin/Konstepidemin-Attan/
:::::::::::::::::::::::::::::::::