Brötz bästa tid är nu! Superduo från Norge och Frijazz av bästa märke från välkänd Gbgsläkt.
Vilde & Inga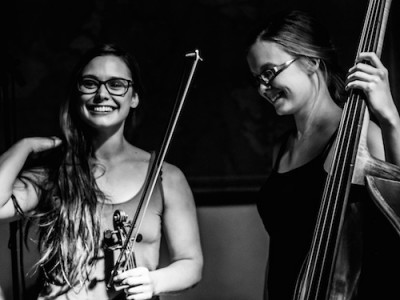 Vilde&Inga is a young string duo playing acoustic free improvised music, featuring violin and double bass. By exploring nontraditional approaches to the instruments, the duo greatly expands their timbre palette. The wide horizons of colour allow the music to develop slowly and organically, yet with a keen underlying sense of compositional form. Vilde Sandve Alnæs and Inga Margrete Aas are classically trained musicians from Norway.
Vilde Sandve Alnæs – violin
Inga Margrete Aas – bas
Alla som såg Urgent Call (tidigare Hoj) senast på ölsjappet Hammok i Gbg vet att detta band är i fin form. Det uppstod spontant dans och livliga bifall. Lokalodlad frijazz av bästa märke!
Urgent Call
Jonny Wartel – sax
Georgia Wartel Collins- bas
Henrik Jonny Wartel – trummor
https://www.youtube.com/watch?v=FA4SqAoHYlc
http://www.urgentcall.wartel.se
http://www.hoj.wartel.se
Dessutom Music lover records säljer grymma plattor:http://www.facebook.com/musicloversgbg
60 kr inträde
Cash is king
Väl mött kl 20.00 (1a konserten börjar 20.30)