Två toppband från Götet och en mästare inom elektronisk impro. Missa inte!
Johan Moir Ensemble
"Johan Moir Ensemble" spelar en musik som tar sin avstamp från Europeisk jazz och improvisations musik, men som inte är rädd för att pröva nya vägar och utmana lyssnaren. Kompositionerna består av starka melodier, med utmanande harmonier, stor dynamik och kontrast. Gruppens spel är samspelt, lyhört och intuitivt.
Johan Moir Kontrabas
Casey Moir Röst
Carl-Johan Groth Trummor
Naoko Sakata Piano
Malin Wättring Saxofon
http://www.youtube.com/user/johanmoir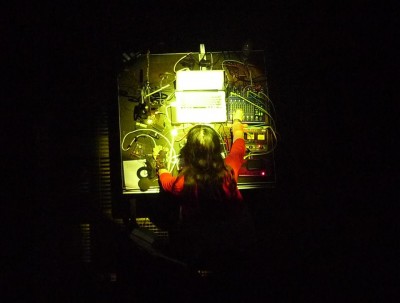 Lise-Lotte Norelius -Soloelektronik
Lise-Lotte Norelius is one of Stockholms most active electronic musicians.
Besides composing new music for other musicians and electronics, she performs both as solo artist and in collaboration with other musicians and artists from different fields. She is one of the founders of the DIY ensemble Syntjuntan who has got a lot of attention for their workshops and concerts with textile instruments.
http://www.lise-lottenorelius.se/
Belle
A group playing structured improvisations and compositions by Linda Oláh. The group consists of four innovative and captivative improvisers. All the four members play an equally important role as soloists/accompanists of the music, all of the four members also play an equally important role both as instrumentalists and vocalists which is why all of the four musicians are given the same space whithin the music and its development ; All of the four members plays an equally important role in the music.
Belle består av:
Linda Olah – röst/elektronik
Lindha Kallerdahl -röst/bas
Martin Öhman – röst/trummor/elektronik
Johan Graden – röst/piano/synth
Dessutom Music lover records säljer grymma plattor:
http://www.facebook.com/musicloversgbg
60 kr inträde
Cash is king
Väl mött kl 20.00 (1a konserten börjar 20.30)