Fint som snus skall det vara! Decompositions och Björklund/Markusson/Hörngren bjuder upp till dans.
Björklund/Svensson/Bäckström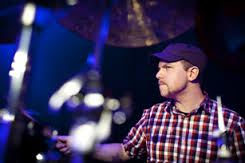 Johan Björklund – slagverk
Carl Svensson – gitarr
Mathias Bäckström – saxofon
Ny musik med ny, spännande formation musiker.
Lågmält, klangrikt och långsamt utforskar tre snabbtänkta improvisatörer
utkanterna av jazz/rock/elektronika-världarna.
DeCompositions
A constellation revolving around Sweden/USA-based guitarist Gunnar Backman playing virtual fretted and fretless guitar alongside electronics, live loops and samples . Mixed together with the acoustic counterweight of saxophones, double bass and drums the outcome is a balanced adventure in sound. The music is based on various forms of improvisation and spontaneity. Themes and compositions are included but more as subtle ideas than ready-made arrangements. This is music created in the moment to always find new paths!
DeCompositions består av:
Gunnar Backman -git/sampling
Jonny Wartel – saxofon
Alfred Lorinius – bas
Per Anders Skytt -trummor
Lyssna: https://soundcloud.com/decompositions
Dessutom Music lover records säljer grymma plattor:
http://www.facebook.com/musicloversgbg
60 kr inträde
Cash is king
Väl mött kl 20.00 (1a konserten börjar 20.30)
http://www.youtube.com/user/brotzbrotzbrotz
Kolla in levande och fri jazz i gbg: