Så här i brytpunkten mellan vinter och vår passar det utmärkt med en norsk trio och en lokalproducerad oktett.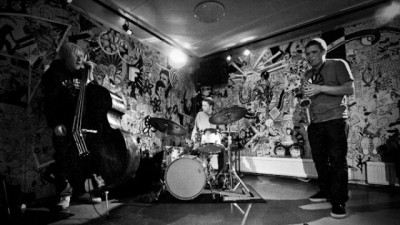 Oslo-based Wolfram Trio is a group that seeks inspiration in acoustic free jazz, as well as modern contemporary improvised Music. Wolfram plays improvised music and the result often tends to be spontaneous, fearless and explosive.
Wolfram trio består av:
Halvor Meling – altsax
Fredrik Luhr Deitrichson – bas
Jan Martin Gismervik – trummor
Länk: http://wolframtrio.com/
Malin Wättring Oktett
Malin Wättring är en mycket spännande musiker som alltid går sina egna vägar. Här hör vi hennes oktett (!) där hon satt ihop ett dreamteam av grymma och uppskattade musiker. Egenkomponerat och improviserat står på menyn när Wättrings oktett äntrar scenen.
Malin Wättring Oktett:
Malin Wättring – saxofon
Isak Hedtjärn – klarintetter
Signe Dahlgreen – saxofon/klarinett
Karin Verbaan – röst/flöjt
Stina Larsdotter – cello
Naoko Sakata – piano
Donovan von Martens -bas
Anna Lund – trummor
Dessutom! Music Lovers Records säljer vinyl; mycket frijazz och improvisationsplatter.
http://www.facebook.com/musicloversgbg
60 kr inträde
Cash is king
Väl mött kl 20.00 (1a konserten börjar 20.30)
http://www.youtube.com/user/brotzbrotzbrotz
Kolla in levande och fri jazz i gbg: