Kom in i värmen på Brötz och lyssna på två strålande Göteborgsband. Kommer med all sannolikhet bli dunder!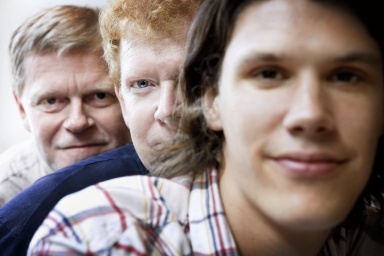 SounDance
Thomas Gustafsson – sax
Staffans Svensson – trp
Chris Montgomery – tr
Thomas Gustafsson, Staffan Svensson and Chris Montgomery form the trio which, complemented with sax, trumpet, drums, and electronics, create a music that is shaped on the basis of flexible structures, intuitive musical interaction and soundscapes, into a totality.
An electro-acoustic scenery, with mood 'n art music, delivered in a live-setting by three exceptional improvisational musicians.
Länk:
http://www.gacmusic.se/artists/soundance-10051505
Hanna Tolf Group
Hannah Tolf Group bildades i Göteborg 2012 och har på ett år formats till en stark och färgrik ensemble med ett säreget sound.
Hannah Tolf skriver musiken, där tonvikt läggs på berättande text och nyanserade arrangemang. Berättelser om isberg på Arktiska havet då man är ute och paddlar,
styrkan i en enskild individs handling,
unga själar som lämnar vår jord alldeles för tidigt av anledning svår att acceptera.
Hannah Tolf
röst
Donovan von Martens
bas
Per Walfridsson
piano
Anna Lund
trummor
Dessa fyra individer ger liv åt berättelserna och i kollektiva improvisationer och vida ljudlandskap skapas rum för begrundan.
jag har gått omkring ett tag, med den här scenen i mitt sinne
och jag har försökt att komma hit, för att bli av med rädslan
så jag gick genom porten med de två gyllene lejonen
och han sa till mig att allt hade gått bra
jag trodde honom med en gång
eftersom han var den gyllene prinsen
skaparen av vårt universum
jag tittade upp mot skyn där var de, virvlande så högt
här på marken fanns rädsla men det fanns ingen rädsla där uppe
som 63 röda ballonger fästa i taket
liksom glödande stjärnor en kall, kall natt
men när elden hade brunnit ut
släppte de varsamt taget
och trädde in i vårt universum
Länk:
https://soundcloud.com/hannah-tolf
Dessutom! Music Lovers Records säljer vinyl; mycket frijazz och improvisationsplattor.
http://www.facebook.com/musicloversgbg
60 kr inträde
Cash is king
Väl mött kl 20.00 (1a konserten börjar 20.30)
http://www.youtube.com/user/brotzbrotzbrotz
Kolla in levande och fri jazz i gbg: